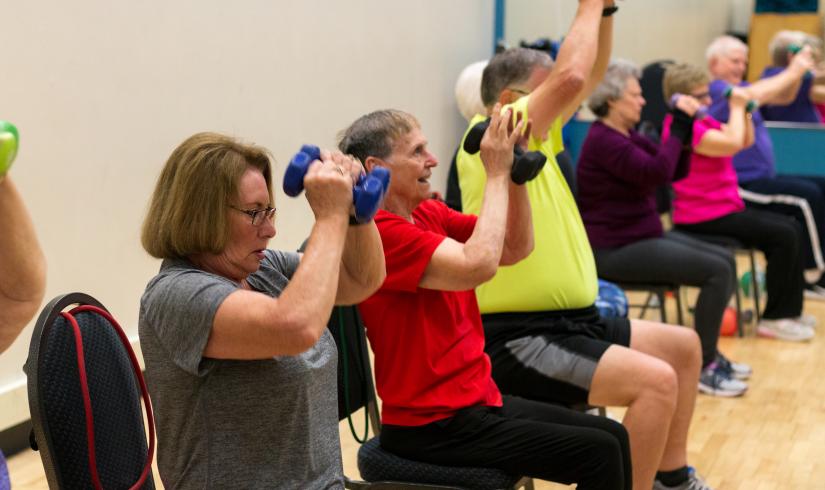 The Y is offering multiple events across our community centers for active older adults to help keep you flexible, stable, and reduce the risk of falls.
According to the Centers for Disease Control and Prevention (CDC), each year, 3 million older people are treated in emergency departments for fall injuries. Fortunately, many falls are preventable and the first step to prevention is understanding risk. With a focus on healthy aging, the Y is committed to helping older adults learn their fall risk and access programs that can help them reduce their risk for falls.
Older adults are valuable members of our families and communities. We want people to be able to live independently in their homes for as long as possible, and fall prevention is key. We also want to help eliminate the fear of falling that may cause people to limit their activities, which leads to reduced mobility, diminished quality of life and can actually increase the risk of falling.
Join the Y this month as we recognize Fall Prevention Month and support you with a series of workshops across our community centers. In each, you'll learn how to prevent falls by incorporating balance and posture with moves you can do at home. Each of these events is free and open to all as part of our commitment to fall prevention.
Fall Prevention Events at the YMCA
Morgan Family YMCA is hosting several vendors to support Fall Prevention Month, including MultiCare, Washington Alzheimer's Association, Advanced Health Care, The Health Connection, and Aging Disability Resource Center. Attendees will receive information, fall prevention booklets, brochures for active programs, and information on YMCA programs that meet their lifestyle.
Date and Time: Wednesday, September 14, 2022 | 11:30-1:30pm
Location: Morgan Family Y | Main Gym
Gordon Family YMCA is hosting a Fall Prevention Workshop to support active older adults who may be in need of a risk-assessment or wants to develop greater strength and balance in their day-to-day lives.
Date and Time: Thursday, September 15, 2022 | 11:30-1:00pm
Location: Gordon Family Y | Multipurpose Room
Lakewood Family YMCA is hosting a Fall Prevention Expo featuring numerous vendors and YMCA experts who will be on hand to support people in need or at risk of a fall. Attend and learn more about chronic disease prevention, YMCA's virtual table on YMCA360, the advantages of our Enhance Fitness classes, popular Aquatics classes, and more from the Foot and Ankle Surgical Associates and community liaisons on hand.
Date and Time: September 20, 2022 | 10am-12pm
Location: Lakewood Family YMCA | Main Gym
Haselwood Family YMCA is hosting Kitsap Physical Therapy and it will be offering a fall and balance risk assessment for attendees, as well as a special Enhance Fitness session.
Date and Time: Tuesday, September 20, 2022 | 5:30-6:30pm
Location: Haselwood Family YMCA | Community Room & Spirit, Mind, Body Room
Tacoma Center YMCA and University YMCA Student Center are co-hosting a workshop featuring Deborah Gurney from MultiCare. Prior to Gurney's presentation, the Y is offering an Ignite and Gentle Yoga class. Gurney will be presenting a risk-assessment with attendees and conducting testing before and after her workshop.
Date and Time: Wednesday, September 21, 2022 | 9am-12pm
Location: Tacoma Center YMCA | Multipurpose Room
Schedule:
9:30am – 10:15am | Ignite
10:30am- 11:30am | Gentle Yoga
11:30am – 12:30pm | MultiCare Presentation
Tom Taylor Family YMCA is hosting multiple vendors from Kitsap County in its Fall Prevention Expo, including Right at Home, Sound Fitness, Route 16 Run/Walk, Backbone LLC, Gig Harbor Library, MultiCare, and more. Attendees will learn more about methods to prevent falls, access local resources, and be able to check out classes the Y offers to support an active, enduring lifestyle.
Date and Time: Wednesday, September 21, 2022 | 9am-12pm
Location: Tom Taylor YMCA | Main Gym
Mel Korum Family YMCA is hosting Fall Prevention Awareness Day for the Pierce County Fall Prevention Coalition.
Date and Time: Thursday, September 22, 2022 | 10am - 12pm
Location: Mel Korum Family YMCA | Sports Park
For those who cannot attend any of our September events, the Bremerton Family YMCA is hosting two speakers in late October you won't want to miss: Personal Trainer Ray Bouchard who will discuss balance through single leg movement patterns and Leah Horton from the Energy Bank. There will also be additional community vendors, class demonstrations available, coffee, and snacks.
Date and Time: Friday, October 28, 2022 | 9am - 12pm
Location: Bremerton Family YMCA | Room TBD
Take a Stand at Home
You can also take action at home to lessen the risk of a fall. The CDC suggests these basic lifestyle and safety changes to help reduce risk or prevent falls: • Begin an exercise program to improve your leg strength & balance.
Ask your doctor or pharmacist to review your medicines.
Get annual eye check-ups & update your eyeglasses.
Make your home safer by:

Removing clutter & tripping hazards.
Putting railings on all stairs & adding grab bars in the bathroom.
Having good lighting, especially on stairs.
The Y is dedicated to working with and helping educate active older adults and discuss home safety, exercise, personal care, and how to set people up for success at any age. Learn more about your risk factors from the National Council on Aging by taking its Fall Free Check-up Quiz.