Before and After School Care Is Available
Throughout Pierce and Kitsap Counties
*Feeder Schools With Transportation Provided To Before and After School Sites
Kitsap County Locations
---
Bremerton School District | 6am-6pm
Armin Jahr, Crownhill, and West Hills Elementary Schools
* View Ridge Elementary and Mountain View Middle School | Armin Jahr Elementary

* Kitsap Lake Elementary | Crownhill Elementary
---
Central Kitsap School District | 6am-6pm
Bud Hawk, Cottonwood, Green Mountain, Pinecrest, and Silverdale Elementary Schools
* Emerald Heights Elementary - Gifted Program | Pinecrest Elementary
---
Peninsula School District | 6:30am-6:30pm
Artondale, Discovery, Harbor Heights, Minter Creek, Purdy, Pioneer, Swift Water, Vaughn, and Voyager Elementary Schools
---
South Kitsap School District | 6am-6pm
Burley Glenwood, East Port Orchard, Manchester, Mullenix Ridge, South Colby, and Sunnyslope Elementary Schools
* Orchard Heights Elementary - SOARS (gifted program) | East Port Orchard Elementary
---
Pierce County Locations
---
Clover Park School District | 6:30am-6:30pm
Custer and Idlewild Elementary Schools
---
Franklin Pierce School District | 6:30am-6pm
Christensen, Elmhurst, Harvard, and Midland
* Brookdale Elementary | Elmhurst Elementary
* Central Ave Elementary | Harvard Elementary
* Collins Elementary | Midland Elementary
* James Sales | Christensen Elementary
---
Puyallup School District | 6:30am-6:30pm
Early Learning Center at the Mel Korum YMCA
---
Tacoma School District | 7am-6:30pm
Delong, Grant, Geiger, Point Defiance, and Washington
* Bryant Elementary | Grant Elementary
* Franklin Elementary | Delong Elementary
* Sherman Elementary | Washington Elementary
* Skyline Elementary | Point Defiance Elementary
---
University Place School District | 6am-6pm
YMCA Early Learning Center Campus
* University Place Primary, Sunset Primary, Evergreen Primary, Chambers Primary | YMCA Early Learning Center University Place Campus
---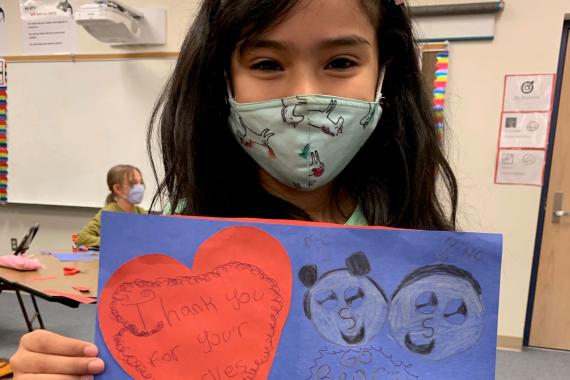 Access For All
The Y offers licensed before and after school programming at your local elementary school. Parents can build a schedule based on the days care is needed. Hours are flexible to meet the needs of working families with drop-off as early as 6am and pick-up as late as 6:30pm.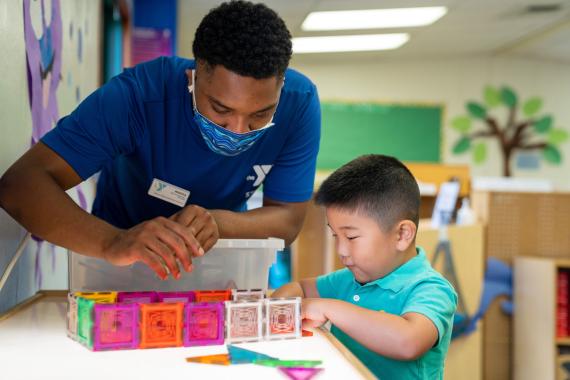 Quality Programming
YMCA Before and After School Care is more than a place for children to go after school. It's a place where caring adults keep children safe, introduce them to new friends, play group games, and help with their homework. We provide leadership development opportunities through our eights points of leadership and core values.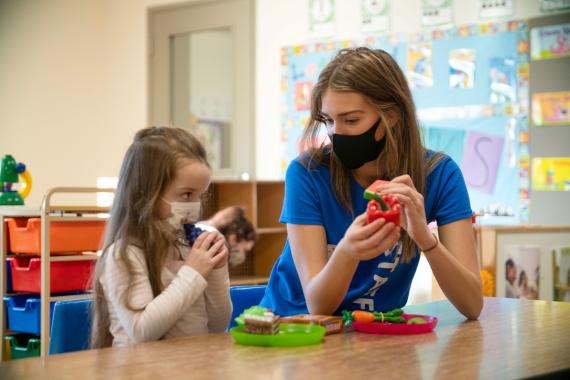 Professional Staff
The Y employs youth development professionals in partnership with state staff licensing requirements. We are committed to delivering quality programs focused on safety, health, social growth, and academic support so children grow and thrive in our care.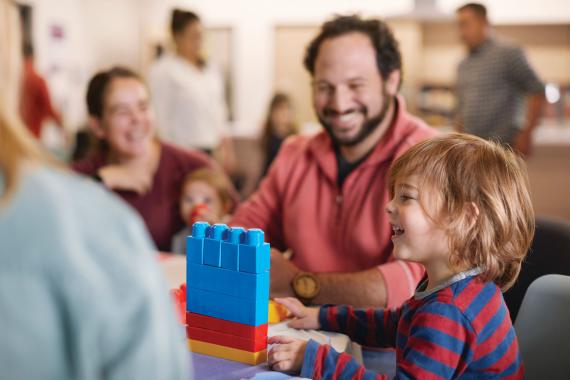 Happy Parents
"My child has access to healthy and yummy snacks, has quiet time to do homework, gets to play games with her peers, feels safe, and is in a well-controlled environment."
– Parent, YMCA at Artondale Elementary (Peninsula)
All rates are billed monthly. View our full child care rate table below to customize rates and days that fit your schedule. You will have the flexibility to select your specific daily schedule.
Complete the registration packet online. As a state licensed child care, all information is required in order to register. The $50 registration fee will be due in order to register. Your answers will be saved for future registrations to make the process quicker and easier.
Registration Process
Pay $50 registration fee
Complete registration packet.
Child Care Office will review and approve or contact you for more information. Once you are approved, you can select your schedule.
Current Participants (those enrolled February 2021 – June 2021)
You will now be completing the registration packet online! The system will save your answers for future child care registration to make the process quicker and easier.
Priority Registration: You will receive an email with a code on June 28, which waives your registration fee during our 2 week priority registration period. June 28 – July 9
Registration Process
Use Code to waive $50 registration fee. Valid from June 28 – July 9.
Complete registration packet on the YMCAPKC website
Child Care Office will review and approve or contact you for more information. Once you are approved, you can select your schedule.
When are child care payments due?
Payments are due by the 5th of each month. A late fee will apply on the 6th.
Balance Due on Account | If you have a balance on your account, the system will not allow you to register for a program at the branches without paying your balance due.
If fees have not been paid by the 15th of the month, care will be suspended.
Child care fees draft on the 5th of each month. You can make a payment for child care at any time through your online account or by contacting your child care office.
Can I use my FSA card to pay for care?
Unfortunately not. FSA cards cannot be processed by our system. You can submit a reimbursement form to our child care office to complete.
What forms of payment are accepted?
Credit & debit cards (no FSA cards)
Cash & check
Money Orders
Payments cannot be accepted at child care sites. Cash, check, or money orders need to be given directly to our child care offices:
3330 Kitsap Way Bremerton, WA 98312
1614 S Mildred St Ste 1, Tacoma WA 98465
What do the monthly fees include?
YMCA Child Care is a school year program based on school in-session days (20 day months). Fees are calculated and averaged over the school year to ensure a consistent monthly charge. There are no pro-rates for months with break weeks, shorter months, or inclement weather. Some rates are subject to change.
Free YMCA Membership for each child enrolled.
Discounts may not be combined and do not apply to drop-in fees, registration fees, or YMCA community center program.
Military
Active Military and DOD personnel can receive child care subsidies by applying online at

childcareaware.org

. If you apply and do not qualify for the subsidy, contact the child care office for a 10% discount.
Sibling
10% sibling discount is available for multiple children.
School District Staff
If you are a teacher and/or school district personnel within a school district we service (Clover Park, Franklin Pierce, Bremerton, Central Kitsap, South Kitsap, Peninsula, or Tacoma), you can receive a 50% discount with ID verification.
YMCA Staff
If you are a YMCA staff you will receive a 50% discount on your child care fees.
Subsidies For Third Parties
The Y is open to all, regardless of gender, race, age, background, income, or physical or mental ability. Financial Assistance is available. We accept the following subsidies:
DSHS/DCYF
Child Care Aware/NACCRRA
Puyallup Tribes
Muckleshoot Indian Tribe
If you have a subsidy or third party payer that is not listed above, contact our child care office at 253-534-7840 or childcare@ymcapkc.org.
To see if you qualify, contact the Department of Children, Youth and Families. Call DCYF at 1-844-626-8687.
If you are using DSHS/DCYF, the following items are required in order to start:
Completed registration packet
Authorization from DSHS for the correct site & number of authorized days per month.
Once both items are received, it is a two business day processing period.
Contact our child care office to get the 6 digit provider number for your child care site. You will need to give this to DSHS/DCYF. This tells them which site your child is going to and gives them our contact information. They will email the authorization directly to our office. Once we receive it, we will confirm the information with you.
Your copay will be due as assigned by DSHS. This is due by fifth of the month. A late payment fee of $25 will apply if not paid by end of day on fifth of each month.
Apply through Child Care Aware's website or over the phone. More information available at

childcareaware.org

.
Contact our child care office for the provider number specific to your child care site.
If approved by Child Care Aware, your application will be backdated to the date you submitted your CCA application.