Dive into Fitness
Looking to enhance your workout routine with low-impact, full-body exercise options? Our classes are designed to provide a fun and challenging workout that engages your muscles and improves cardiovascular fitness, strength, flexibility, and balance. From low pressure to high intensity, join us in the pool for a good workout!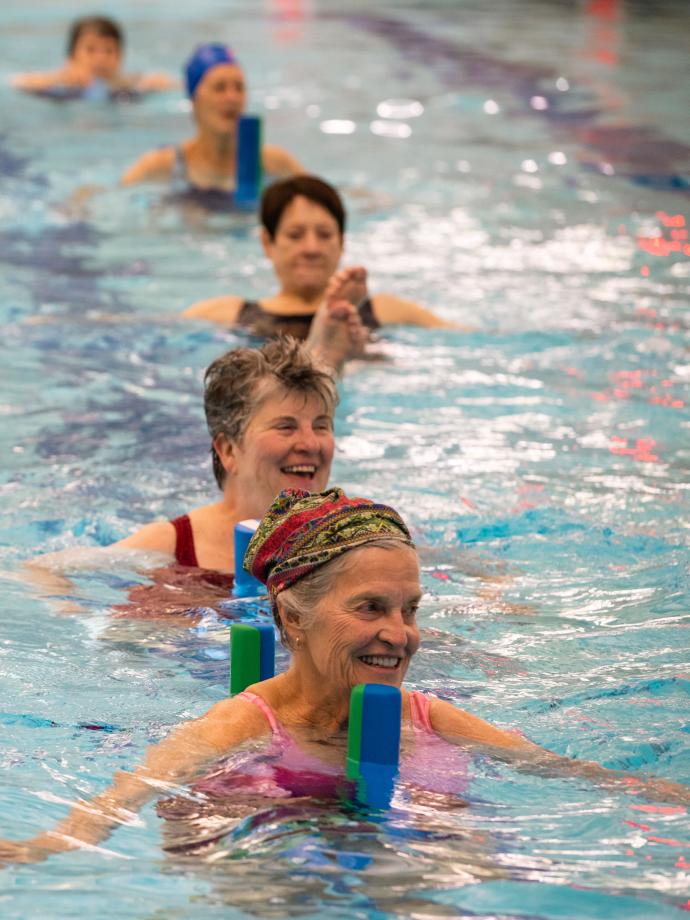 Aqua HIIT | Shallow
The perfect class if you're just starting out or looking for a low-impact workout. 
Classes incorporate a mix of cardiovascular conditioning and muscle strengthening exercises. Shallow water classes are designed to improve strength, balance, and flexibility while minimizing strain on joints. 
Aqua Mobility
Ideal if you are challenged by joint pain or disabilities, our modified water classes offer a safe and supportive environment for all levels of fitness. With modifications and equipment provided, you can enjoy a workout that is both effective and comfortable.
Aqua HIIT | Deep
Take your workout to the next level with deep water classes. With added resistance from the water, deep water classes provide you an intense, full-body, and low-impact workout that will help you improve cardiovascular and muscular strength. Flotation devices and water weights are utilized throughout the class.
Ages and Fitness Levels 
We offer water exercise classes that cater to adults of all fitness abilities, and are led by highly-skilled instructors. With a variety of class options and flexible scheduling, you can easily find the workout that meets your needs and preferences. Not only does water exercise enhance physical fitness, it also provides numerous additional benefits like better circulation, reduced stress, and enhanced mental clarity.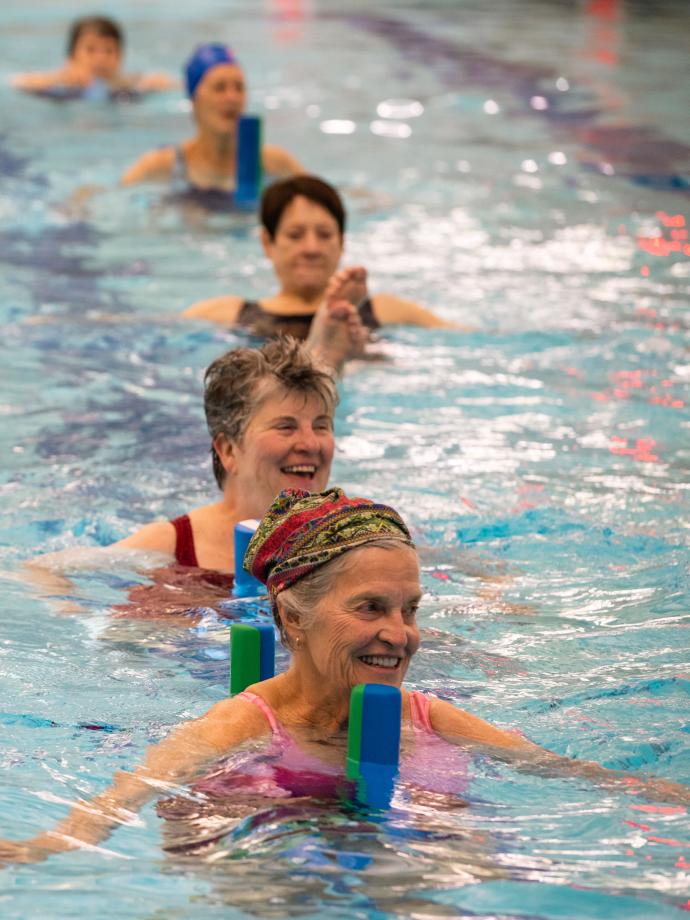 What to Expect in a Water Exercise Class
Our water exercise classes are designed to be fun and energetic, with a focus on improving fitness and overall health. With our knowledgeable instructors leading the way, you can expect a safe and supportive workout environment, regardless of your fitness level. 
When checked in at the Welcome Center, you will want to head to the pool deck through the locker room or family locker room. Once on the pool deck, look for a sign with your class name. If you are unable to find your class, feel free to ask any Y staff so they can direct you on where to go.
Do we need to shower before class?
Yes! The YMCA and our local health department requires all swimmers to take a cleansing soap shower before entering the pool. A swim cap may be worn in lieu of washing hair.
What should I wear to a water exercise class?
We recommend wearing a swimsuit and bringing a towel. For deep water classes, a flotation belt is recommended.