Thinking With Your Feet
Did you know that soccer players develop a more flexible cerebral cortex? The reason why: no hands! The average brain is wired to use our hands far more than other regions of the body. Since soccer focuses on the feet, it supports the plasticity of the human brain and its ability to learn and adapt through experience and training. Start your kid's journey to a well-rounded brain through soccer!
Watch the video
Motor Skills and Fancy Footwork
Playing soccer gives kids the chance to stretch their legs and their limits. Players learn fundamentals and improve their motor skills, as they build endurance and outstanding cardiovascular health. Kids practice dribbling, passing, shooting, and footwork skills, as well as concepts of offense, defense, and teamwork. Youth soccer teams participate in competitive games during each league session. Games are officiated by YMCA referees.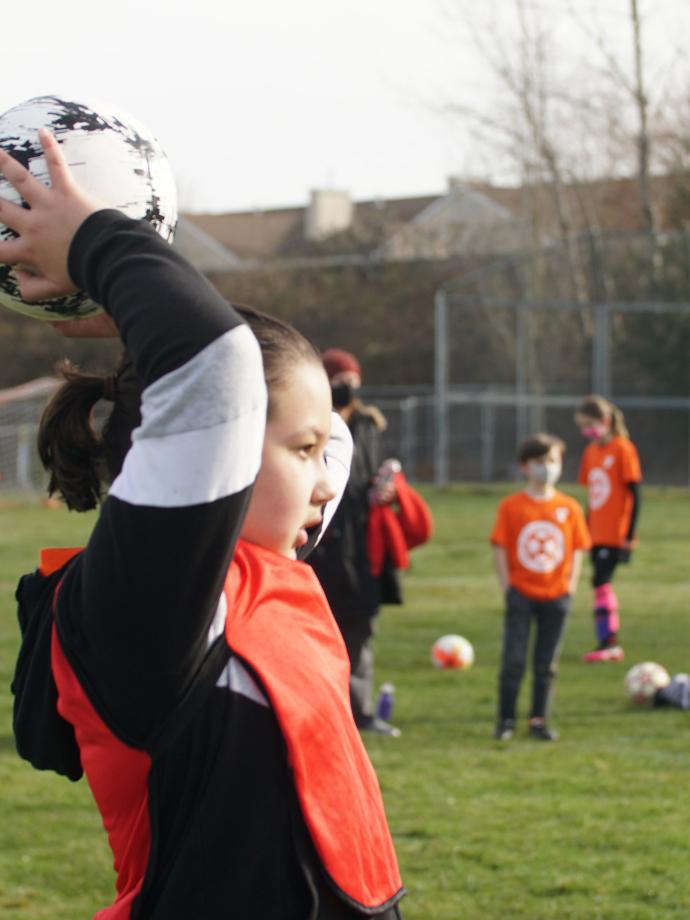 Sportsmanship, Strategy, and Fun
From a young age, children need to learn and understand how to give, take turns, and share – ultimately becoming good teammates. Soccer helps develop these important skills alongside helping players think ahead and quickly solve problems that benefit the greater team. Win or lose, soccer is fun and provides the space for players to laugh, collaborate, and meet other players on the pitch.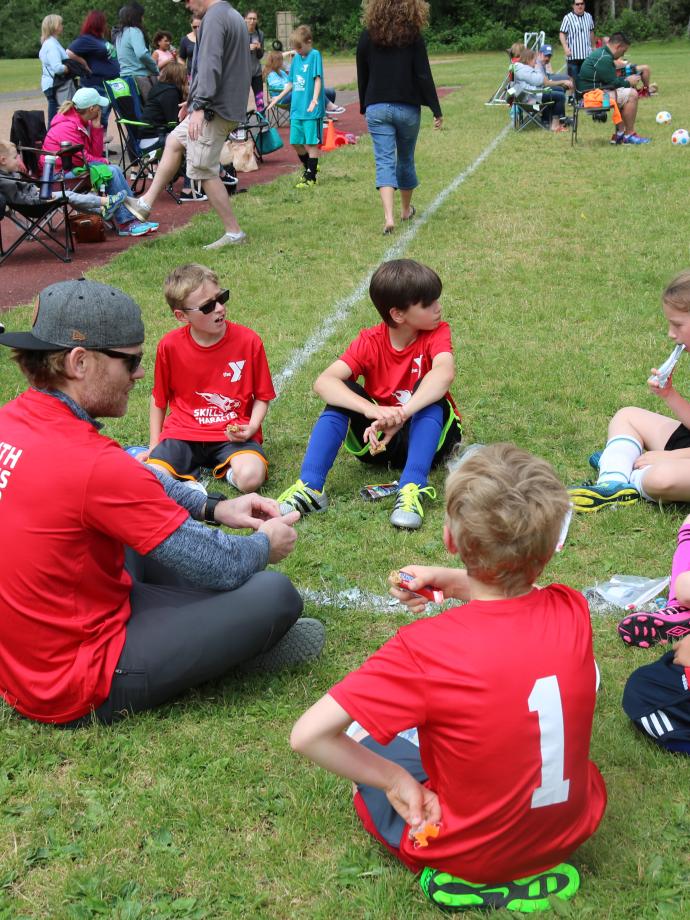 Empathy and Self Esteem
Soccer is an excellent sport to assist in enhancing self-esteem and confidence as they master soccer skills and self-reliance on the field. Kids learn that mistakes are OK, and how to easily and quickly move on from them. This builds resilience and helps them establish emotional regulation. In working with teammates, players learn to understand and trust one another which results in greater empathy through any milestone or challenge they experience.
League Season
September 11 - October 28, 2023
Games
Start
Saturday, September 23, 2023
End
Saturday, October 28, 2023
League Divisions by Age
U5: Ages 3-4
U7: Ages 5-6
U9: Ages 7-8
U11: Ages 9-10
U13: Ages 11-12
Cost Information
$75 for Y members
$150 for community members
Become a Coach and Mentor
All teams are coached by volunteers. If you're interested in coaching, please reach out to the youth sports director at your local Y or apply to be a volunteer.
Frequently Asked Questions
Why has the Y split registration into groups?
We have updated the registration process to improve your experience when registering for programs. Over the past several months we have experienced a variety of system interruptions that generate error messages and disrupt the registration process. To eliminate error messages, we are decreasing the volume of activity on the system and have created two registration groups. Please login to the system at your center's identified time to register for classes at your Y. 
Where are games and practices?
Players participate in one practice during the week and one game each week. Games take place on Saturdays unless otherwise scheduled. U5 teams practice and games will be on Saturdays.
Gordon Family YMCA: Practices and games at Sumner Middle School
Mel Korum Family YMCA: Practices and games at Mel Korum Family Y
Lakewood Family YMCA: Practices and games at Harrison Prep and Four Heroes Elementary School
Morgan Family YMCA: Practices and games at Morgan Family Y
Tom Taylor Family YMCA: Practices at Discovery Elementary School | Games on the Grass Field/Track below Pioneer Elementary 
How long are practices and games?
Practices are 50 minutes to an hour. Games depend on the age division but are usually an hour. U5 teams practice and games are on Saturdays.
When does the league begin?
Practices begin the week of September 11, 2023
Games begin Saturday, September 23, and the league ends on Saturday, October 28, 2023.
Yes, your youth sports director will send out that information well in advance so you can plan accordingly.
When is the game schedule available?
The game schedule will be sent out to all participants and coaches as soon as it is completed, but no later than the first week of practices.
Rule sheets will also be sent out via email prior to the season.
Are soccer cleats required?
Proper shoes and/or cleats are recommended for U-9, U-11, and U-13, but not required.
What gear do kids need to bring?
Team T-shirt (provided)
Water
Shin guards (optional)
What is included in the cost?
A weekly practice and six games which are played on Saturdays. Participants receive a team shirt.
Can guests come to the games?
We invite all our players to bring along friends and family to cheer them on! Please invite guests to visit after filling out a Guest Pass. All guests will need to sign a waiver upon entry. Additionally, we require all guests 16+ to present a government issued ID (driver's license). The number of viewers permitted varies by community center and game/practice location based upon capacity.
If I'm a member at one center, may I register for a class at another center that opens at a different time slot?
Yes, you are able to register for programs at multiple centers. Simply login to the registration site at the identified time for your center(s) and complete the registration process.
Am I able to register for a class at a Center located in the second group (5:30PM) during the 7AM registration?
Access to center programs will be available as listed above. Center members who register at 7am will not have access to programs at a center with a registration start time of 5:30pm. Rather, you will need to login at 5:30pm to register for your classes.
I have questions about this process. Who should I contact?