Family Fun and Discovery
Kids ages 6 weeks-7 years old can participate in age-appropriate activities in a safe environment while you work out.
Registration
Registration
You can register your child at your Y's Welcome Center once this service is available again.
Fees Per Family
Daily Rate
$15
Monthly Rate
$50
Available Hours
Hours will be determined when a reopening date is established.
How long can I leave my child at Child Watch?
There is a two-hour maximum limit in child watch per family.
How Do I pay for care and how much?
Payment is due at the time of registration at your local Y's Welcome Center and is non-refundable.
Fees must be paid before the child enters child watch:
Monthly Rate | $50 per family
Daily Rate | $15 per family
CAN I CHECK MY CHILD(REN) INTO THE KID ZONE AND LEAVE TO RUN ERRANDS, VISIT THE DOCTOR, OR DO OTHER QUICK ERRANDS?
The parent or guardian must remain in the building at all times when children are in Child Watch. Parents or guardians are allowed to be on the premises on the field if available at the Community Center while children are in Child Watch.
We are operating in compliance with all government guidelines to maintain a healthy environment for everyone. The statewide order now requires that masks must be worn by youth ages 5-7 years old at all times in Child Watch.
My Child Doesn't feel well. Can I still drop them off?
Children with the following symptoms/illness will not be allowed in Child watch: vomiting, diarrhea, fever, undiagnosed rash.
Child Watch staff will not administer any medication creams or natural remedies.
What behaviors are allowed?
Child watch is a unique environment. Many ages are combined and because of this we adhere to the following behavior policy:
Child Watch staff will use redirection to discourage inappropriate behavior.
Children harming themselves, harming others, or being disrespectful to the staff, facility, equipment, and members will result in disciplinary actions.
Repeated offenses will result in suspension or expulsion from Child Watch. Suspension will be used if the child continues to use aggressive behavior.
First offense: A discussion with the Child Watch Supervisor. Further action may be taken based upon the severity of the behavior, up to a one-week suspension.
Second Offense: One-week suspension.
Third offense: Removal from the Child Watch indefinitely.
Crying Rule
If a child is crying inconsolably for up to 10 minutes, we'll call the parent or guardian.
WHat is the y's policy for Diapers and Potty Training?
Diapers
Parents must supply diapers and wipes. We do not apply creams lotion or powders.
Potty Training
Pull-ups are required until your child is accident-free for 30 days.
Can I leave personal belongings?
Yes. Please label all your child's belongings (Bottles, pacifiers, etc…). Please do not bring personal toys or valuables to the child watch. We are not responsible for any lost or broken items.
Car Seats
Children must be removed from their car seats once in child watch. As a safety concern, children are not allowed to sleep in their car seat while in our care.
CAN MY CHILD HAVE FOOD OR a BEVERAGE?
You are welcome to provide your child with a healthy snack. Due to allergies, no nut products are allowed in Child Watch.
Snacks must be in original packaging sealed with the ingredients listed with the exception of fresh fruits and vegetables.
We do not allow candy, gum, or any food requiring utensils.
Infant bottles must be premixed.
Who can pick up my child from child watch?
To be authorized, you must be on the Child's account in the Alaris system and must be 18 years or older.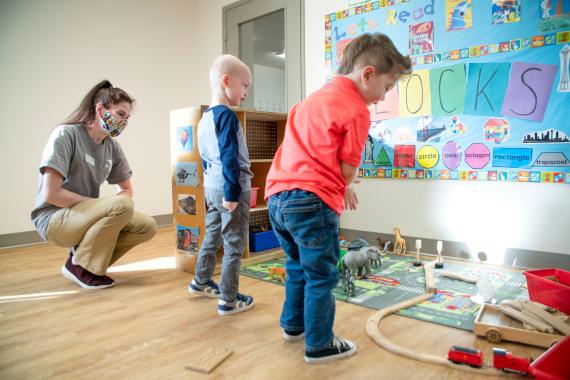 Reactivate Your Membership
Youth programs are available to YMCA members. Reactivate your membership by filling out our reactivation form or join today!
Set up your new online account prior to registration to ensure a seamless registration process.
Health and Safety Information
Review new processes and procedures based on the impact of the COVID-19 pandemic and restrictions placed on the Y.