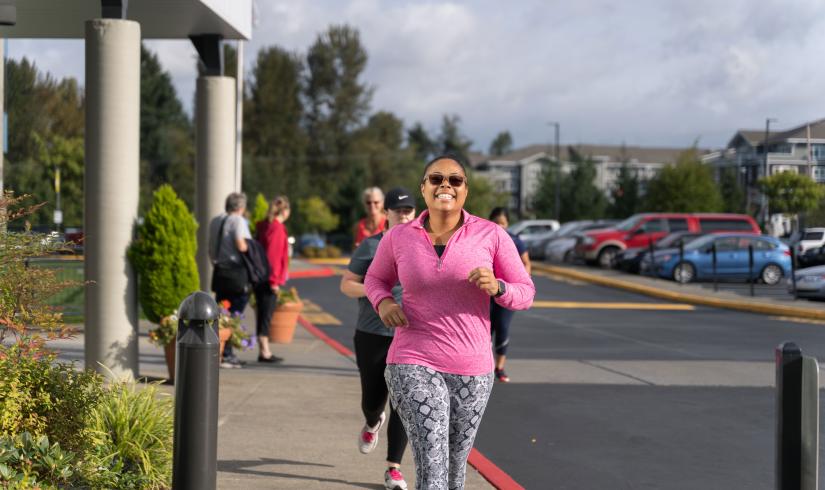 Events kick off June 25 to celebrate a happy, healthy community!
It is finally summer, and we are excited to announce that we're kicking off our sunny season with a series of events to help you thrive. We have almost 70 events (68 to be exact) planned designed to make you sweat, smile, or both! 
Did you know our Y served 100,000 people in 2021? We are ready to usher in warm weather and celebrate it with each of you across Pierce and Kitsap counties. Check out movie night with the family, outdoor fitness with friends, or find your boldness and take The Plunge into the South Sound with us.  
You heard right! On August 26, everyone is invited to meet us at Owen Beach at 8:30am and dive into the brisk water of the Puget Sound. Many members will be walking, jogging, or cycling from Lakewood Family Y and Morgan Family Y, but it's not a requirement to participate. Learn more about The Plunge and check out all the events we have created to bring people together and make it the best summer ever.  
Got little ones? Child Watch has expanded hours at most centers and has you covered! Register in person at your center and plan ahead for your workouts, swimming, and to participate in the Summer Series activities. If you're looking for longer than an hour or two of supervision, please inquire with the Welcome Center about youth development in our summer day camp. Our summer day camps served 1,926 participants last year and we expect even more in 2022 as part of our commitment to deliver the best in camp experiences and youth development programs in our region.  
If you're new to the Y, we invite you to visit and try the Y this summer. Most of our events are free and open to community members. If you decide to join, your membership will help us continue to serve the community as one of its leading nonprofits.
 Summer Series 2022 – Part One 
When: June 25 | 1-3pm 
Location: Haselwood Family Y 
Ages: 8+, youth under 12 must be supervised by an adult 
Start the summer by setting your best intention. This special 2-hour yoga event that provides opportunities to proper yoga breath meditation for well-being alongside a yoga practice of 108 sun salutations for summer solstice, reflection meditation, and journal writing. In ancient tradition, sun salutations were used by Hindus during morning prayer and worship rituals. Over time, they've evolved to become a key part of conditioning the body, and calming the mind, helping yogis disconnect from the distractions of daily life, and enter a meditative state ahead of their practice. Start your summer with your best self at the Y. Chairs available if needed. 
When: June 27-August 6 
Location: All Community Centers 
Ages: 8+, youth must be able to pass a swim test
Lazyman Ironman is the challenging way to push yourself and your limits this summer. We are hosting a summer Lazyman Ironman across all our centers so that you can compete to complete while you get in better shape. A traditional Ironman requires you complete a set distance across swimming, cycling, and running in a short amount of time but at the Y we understand that's not always possible. That is why the Lazyman Ironman is a wonderful way to train across various fields, test your mettle over the course of several weeks, and have a fun time with us in the sunshine and in our centers. Sign up at the membership center and challenge your friends online to stay motivated.