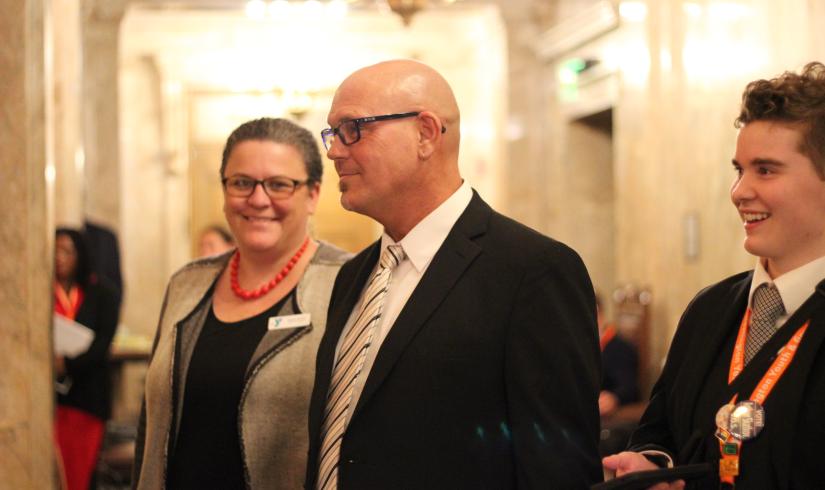 The "Robert F. Utter Award": Honoring Don Brevik's Contributions to Civic Leadership
During the 76th Annual Youth and Government Legislative session, Don Brevik was awarded the prestigious "Robert F. Utter Award" for his consistent, outstanding, and sustained contributions to the cause of civic leadership in Washington state. This award is a testament to his unwavering commitment to promoting civic engagement among the youth.  
A Pivotal Role Model for Landon Hulser, the 76th Youth Governor
For Landon Hulser, the 76th Youth Governor, Don Brevik has been a pivotal role model in his life. "From the time I met Don up until recently, Don has been nothing but a supporter for me and the other people at the Y. Don Brevik changes lives. Whether it be Youth and Government, Kids Night Out, Summer of Service, or general interactions with Don, he is always caring, honest, responsible, and respectful. If everyone had a Don Brevik in their life, the world would be a better place." 
Don Brevik's Revolutionary Work with the Youth and Government Program
Starting at the Y at age 17, Don Brevik slowly worked up the ladder and became the Senior Youth Leadership Director and revolutionized the Youth and Government program by extending Youth and Government past the YMCA walls and into the schools.
Particularly the middle school program, which spans across Clover Park , Tacoma and Franklin Pierce School Districts. There are over 200 middle schools currently in the program thanks to the work of Don Brevik and the dedicated teachers that value a civic education. 
Don Brevik's Advocacy Efforts: Support for Civic Education for Youth
Currently, the YMCA of Pierce and Kitsap counties make up at least half of the teens taking over the State Capitol. Amber Wetzel, Executive Director of the entire Youth and Government program in Washington State, describes Don Brevik's contributions as one of the major cornerstones of the program.  
"Due to Don's innate relationship-building skill and dedication to the program, he continued to grow and build our eighth-grade program to what it is today. Several delegations and associations consider his model the go-to for a successful program." 
A True Champion of Civic Engagement and Youth Development
Don Brevik is a true champion of civic engagement and youth development. His unwavering commitment to promoting inclusivity, diversity, and community has helped make the Youth and Government program and the YMCA a more vibrant and impactful organization. The "Robert F. Utter Award" is a well-deserved recognition of his contributions. We are all grateful for his dedication and leadership. Congratulations, Don, on this fantastic achievement! 
To learn more about Youth and Government visit: https://www.ymcapkc.org/teen-leadership/youth-government