SPEAK UP, SPEAK OUT, SPEAK OFTEN
Since 1947, YMCAs in Washington State have provided a platform for like-minded young people to embark on a non-partisan, civic engagement opportunity through the Youth & Government program. YMCA Youth and Government is designed to educate and civically engage teens in grades 8-12 about our State Legislative process in a fun, exciting, and educational way.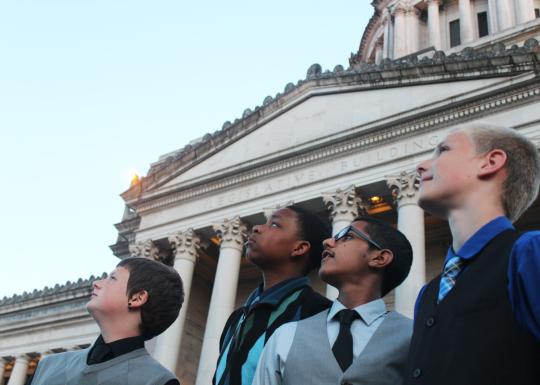 What Is Youth And Government?
Youth and Government is different than traditional classroom civics—rather than just speak or read about civic engagement, students in YAG actually get to put their skills to the test and learn through an experiential, hands-on, student-led journey outside the classroom.
Through weekly delegation meetings, district and state events, teens will learn the skills and technics necessary to prepare them for the annual YMCA Youth Legislature Conference. This year's program culminates **May 5-8, 2020, where teens from every corner of our state will immerse themselves by taking on roles within state government: from Youth Governor, Secretary of State and Attorney Generals within the Executive Branch to Speaker of the House, Lt. Governor, committee leaders and legislators within the Legislative Branch, in addition to the important roles of lobbyists and press corp.
** Due to the impact COVID-19 has had our communities, all delegation, district and state events will be virtual until it is safe to do otherwise.
How Teens Will Benefit
Teens across our state and within our delegation may have differing political viewpoints that span the spectrum. Youth and Government is non-partisan based, which assists in challenging, clarifying, and enhancing the overall debate of the issues.
Youth & Government assists in the development of critical thinking competence and strengthens communication skills while tackling issues within our state and nation. Teens will learn how to research issues of concern, write and propose legislation, and explore the art of compromise as they present their legislation before a group of their peers during committee and floor sessions.
Program Registration
YMCA programs are open and available to everyone within our communities and no person shall be turned away due to the inability to pay. Scholarships are available.
Y Experience Scholarships
Y Experience Scholarships help remove the financial barriers to accessing YMCA facilities, programs, and services. Scholarships are provided based on household, income, and special circumstances. Please complete the application online and a Y staff member will contact you soon. Apply For A Scholarship.
Don Brevik
Association Youth and Government Director

DEMOCRACY MUST BE LEARNED BY EACH GENERATION
"Youth and Government empowers me to advocate for every single thing I believe in. I'm really confident not only in myself but my abilities."
- Dany S.