From the Classroom to the Capitol
Youth & Government gives teens, grades 8-12, the opportunity to be a part of one of the oldest YMCA non-partisan, civic engagement programs in the country. What began in 1947 is now one of the highly rated civic engagement programs in Washington State. Youth and Government allows for over 500 teens, across our state, to participate in the legislative process of writing bills, passing of mock laws currently on our country's agenda and the researching and debating of present important issues.
Interested in learning more about Youth and Government?
Fill out our interest form now for more information. Unleash your leadership potential today!
What Is Youth And Government?
Youth and Government is different than traditional classroom civics—rather than just read about civic engagement, students in YAG actually get to put their skills to the test and learn through an experiential, hands-on, student-led experience outside the classroom.
Through delegation meetings, district and state events, teens will learn the skills and technics necessary to prepare them for the annual YMCA Youth Legislature Conference. This year's program culminates May 8-11, 2024 where teens from every corner of our state will immerse themselves by taking on roles within state government: from Youth Governor, Secretary of State and Attorney Generals within the Executive Branch to Speaker of the House, Lt. Governor, committee leaders and legislators within the Legislative Branch, in addition to the important roles of lobbyists and press corp.
What Delegates Will Learn In The Program
To foster the development of citizen responsibility
To develop social competence, problem-solving ability, and communication skills
To encourage self-reliance and a sense of purpose for youth
To stimulate careful deliberation of social issues and their possible resolutions
To create opportunities to hear and respect varying viewpoints
To inspire young people to be responsible and act with integrity
To apply ethical values in making public policy
To teach the YMCA core values of Honesty, Caring, Respect, and Responsibility
Developing Long and Short Term Goals
Deeper understanding of how the role they play is important to government
Collaboration skills
Create and maintain new friendships across state
Public speaking competencies
Building self-confidence
Thinking critically
Debate w/ Y values in mind
Greater understanding of how they can influence public policy
Learn how to advocate through the legislative process
Take on and enhance leadership skills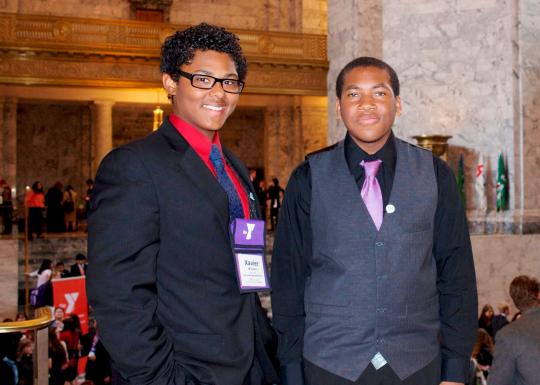 "Through participation in the YMCA Youth & Government program, my friends and I are becoming aware of the opportunities our state has to offer. By working with peers in Tacoma and around the state, I can discuss statewide problems and work together to develop solutions. Together, we gain skills as citizens and learn about the democratic process."
- Liam W.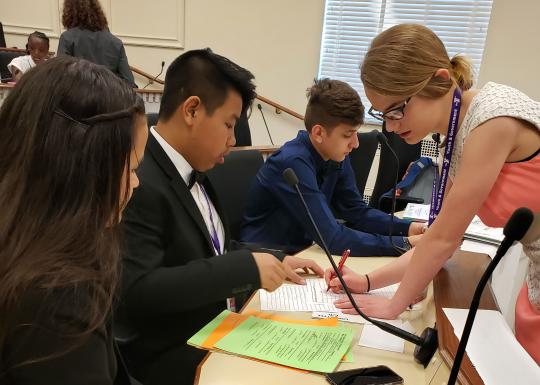 "Youth and Government empowers me to advocate for every single thing I believe in. I'm really confident not only in myself but my abilities."
- Dany S.
Teen Leadership Development Programs Available to All
YMCA programs are open and available to everyone within our communities and you do not need to be a Y member to participate in any of the Teen Leadership Development programs offered. No person shall be turned away due to the inability to pay.
Program Price: $530
Payments may be made on a monthly draft or paid in full upon registration. 
Scholarships
Scholarships at the Y help remove the financial barriers to accessing YMCA facilities, programs, and services. Scholarships are provided based on household, income, and special circumstances. Please complete the application online and a Y staff member will contact you soon. Apply For A Scholarship.
High School Locations
Franklin Pierce High School
Corrigan Room | Early Release Wednesdays 1:30-2:30PM
Washington High School
Room 226 | Early Release Wednesdays 12:15-1:15PM
Don Brevik
Association Youth and Government Director