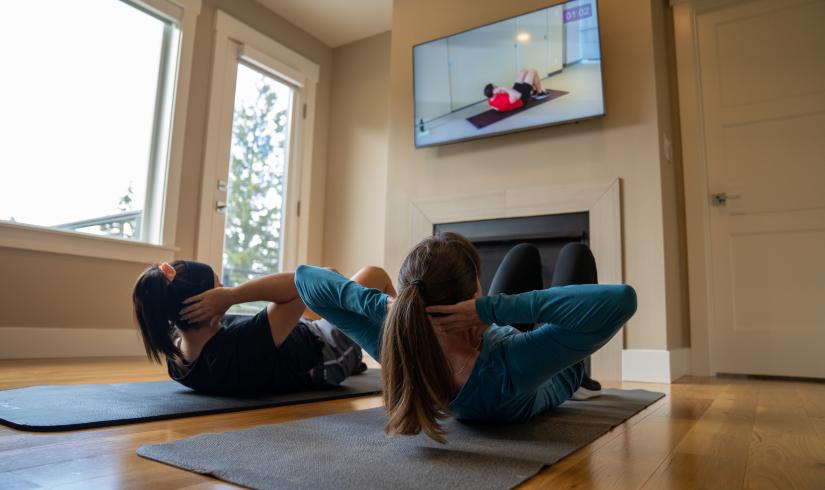 We have enjoyed seeing you in our community centers since September. You bring our mission to life! In support of preventing the spread of COVID-19 and the Governor's orders, the Y is shifting operations to help you stay healthy at home and meet our community's needs:
YMCA buildings are open for pool activities only. All other areas of the Y are closed, effective November 17. Pool activities include lap swimming, water aerobics, and recreational swim. Please continue to make reservations for all pool activities. Building hours remain the same.
Your favorite group exercise classes will continue online beginning Thursday, November 19. Classes are available to Y members only, so please continue to make reservations and you'll receive online login information via email the day of your class.
Arts, dance, and gymnastics programs will be available online beginning November 23. Registered participants will receive direct communication via email with login information for your class.
YMCA Child Care and YMCA Camp Seymour Scholars remain open to provide distance learning support to more than 600 students every day.
YMCA Camp Seymour Outdoor Adventures will continue with one family per activity.
Tacoma Center YMCA and Mel Korum Family YMCA will continue to provide showers to our homeless population in partnership with Valeo Vocation.
Y on the Fly will continue serving middle school students with academic support and family resources in the Tacoma community.
We hope all Y members stay healthy during this time. Your Y membership will remain active so you can continue to enjoy the pool and virtual classes, but you may apply for a Y Experience Scholarship at bit.ly/ymcascholarship or place your membership on hold at no cost at bit.ly/ymcaonhold.
As a Y community, we have strengthened community together and stayed healthy together, and we will continue to support each other.
STAY HEALTHY AND CONNECTED AT HOME
Access on-demand fitness classes at YMCA 360. 
Engage with your favorite fitness, arts, and youth program instructors and other Y members on Facebook Live every day. Check out the schedule today. 
Are you over 55 years old and seeking connection and community? Join our online Active Older Adult Community Cafe in partnership with Y's across Washington state. 
Make a reservation to enjoy family time outdoors in a safe environment at YMCA Camp Seymour. 
MEETING COMMUNITY NEEDS
YMCA Child Care and YMCA Camp Seymour Scholars is serving more than 600 children every day with full-time care, distance learning support, and physical activity. If you need support for your elementary school child, find your school today.
YMCA Early Learning is providing full-time and part-time care to parents of children ages 2.5 to 5 at our Puyallup Campus. Learn more and register today.
We recently announced the opening of the YMCA Early Learning Center in University Place this winter serving ages six weeks to 13 years old. Complete an interest form to save your spot and learn more.
Y on the Fly is a mobile support center made possible by donations and grant funding. The Y on the Fly bus is currently serving the Tacoma community with regular visits to middle schools. Y staff provide academic support, free WiFi, family resources, and meals for students. Learn more.
Our community is facing an unprecedented crisis. If you can help, we encourage you to consider making a gift in support of the Y's response to the community's most urgent needs. Please text the word "Possible" to 44321 or donate online.