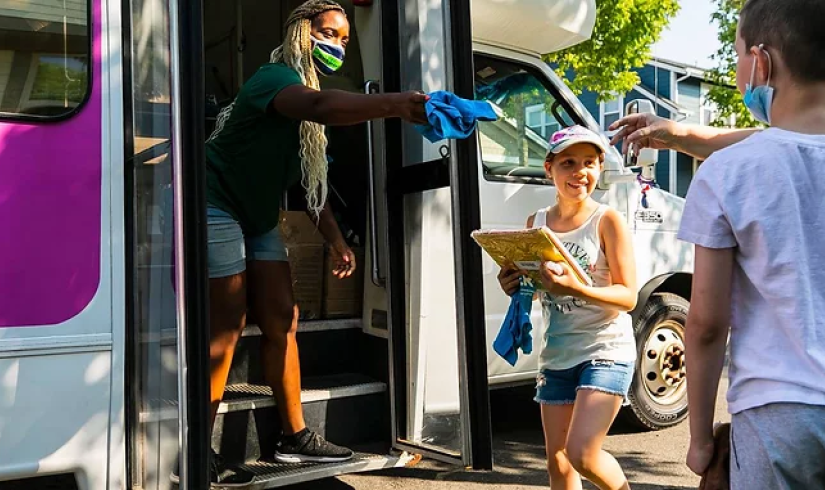 The Center for Community Impact has been quite busy this summer! CCI ran programs such as Youth and Government, Youth Leadership Development, Community Learning Centers, Summer Learning Academies, Y on the Fly, Evening Reporting Center, Youth Mentoring, K-5 Physical Activity, and several health initiatives throughout the summer.  
The Center for Community Impact provided services, enrichment activities, supportive educational opportunities and self-care product giveaways to under-served youth around the South Sound. Serving across all programs over 4,000 underserved youth and families.
Y on The Fly 
During the summer Judy, the Y on The Fly bus traveled throughout the Puget Sound areas to provide aid to historically marginalized communities. Judy was able to provide more than 180 kids ranging from 2-18 years old with food, diapers, wipes, self-care products, clothing products, services, and enrichment activities. For back-to-school resources, the Y on The Fly program given away over 75 backpacks.
Community Learning Center
Community Learning Center (CLC) in Lakewood and Tacoma programming had the opportunity to serve over 385 kids through the summer at no cost to families. The CLC program served middle schoolers in the Clover Park and Tacoma School districts. Program participants had the opportunity to engage in learning and enrichment activities, field trips, and sports throughout the entire summer.
Summer of Service 
In August 2022 we completed our 7th year of hosting a group of teens at YMCA of the Seven Council Fires in South Dakota. This 12-day trip provided developing teens with the opportunity to step outside the local Y they are familiar with and experience the Y's mission in a different capacity and immerse themselves in a new culture. Participating teens were tasked with planning, organizing, and executing a week of day camp for the youth on the Cheyenne River Reservation in Dupree, South Dakota.
Upon arriving at the YMCA of the Seven Council Fires, teens were met with the reality of what life upon a reservation is really like. Through tribal guest speakers, presentations by the Y staff, and first-hand experience, the teens were able to gain a deeper understanding of the Y's impact on a larger scale, as well as how they too can make an impact, both in Dupree and at home. After time on the Cheyenne River Reservations, the group made it a point to visit areas of South Dakota/Montana that hold historical, cultural, and spiritual significance to the Lakota tribes. 
The Changemakers Amazon Project
In collaboration with Amazon, the YMCAPKC received a grant for the Changemakers Amazon Project, to bring teens together and build community. Across the nation, we received the most submissions with a total of 9 eager teens ready to make a change in their community.
These submissions from teens in Pierce County ranged from addressing safety concerns (physically, socially, or mentally), social issues, and racism, seeking to aid those experiencing homelessness, access to healthier food options, the creative arts and literature access to underserved communities. Each proposal addressed equity issues and/or the lack of access and barriers that individuals experience to better their lives.
The winning proposal, "Advocating & Awareness for the Education of Mental Health in Midland" submitted by Rachel Zagar and Emma Martin, students at Franklin Pierce High School had the opportunity to go to Washington D.C to meet their local state senators and representatives, along with hundreds of other youth advocates across the nation.
Their project would provide funding for educators within the Franklin Pierce School District to attend a Mental Health First Add class to help support students within their schools. 
Overall, CCI has made an incredible impact on our community for the summer and continues the work within the school year. You're welcome to explore our site and learn more about the Center for Community Impact. We believe a strong community can be achieved when we invest in our kids, our health, and our neighbors. The Y is grateful to our communities, members, staff, and volunteers for their support of CCI programs and welcomes additional support.