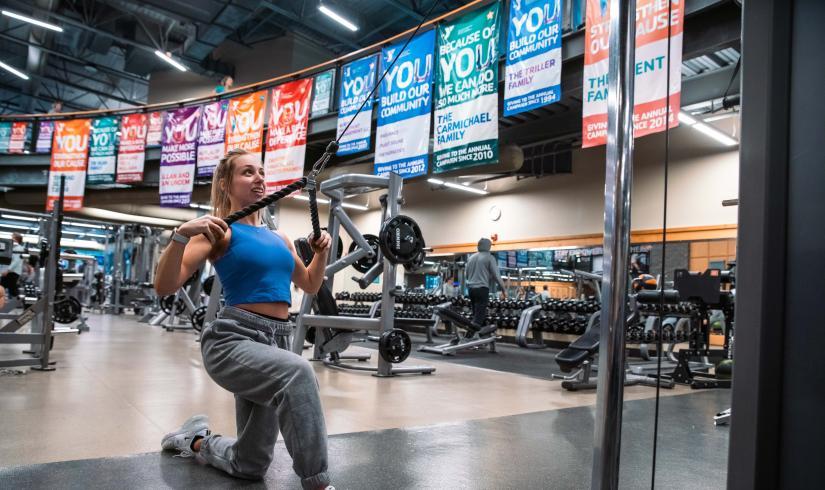 Our team at the Y is committed to improving your in-gym experience. Earlier this year, we made improvements to the strength training spaces at Tom Taylor and Gordon Family YMCAs. This fall we are making similar improvements and refreshing the strength training spaces at Mel Korum and Haselwood Family YMCAs.
Beginning November 1, we are kicking off project work to improve these community centers. When we reopen the space, you'll have access to a suite of new amenities, including: 
New and upgraded strength equipment 
High-tech flooring with sound-dampening features 
Turf field space as well as sleds 
More open space with improved flow 
Less wait time for popular machines and equipment 
Greater accessibility for members who need mobility support 
Here's what else you need to know about the changes ahead.
The upgrades reflect how you use the Y.
You worked out - we listened. These enhancements are the result of an in-depth study of how our members move through the gym during workouts. The new gym area provides you with the equipment, machines, and space you need to do and be your best.
You will still enjoy all the Y has to offer while construction is underway.
On November 1 we will temporarily relocate our strength training equipment throughout the center—once we kick off construction, we'll have detailed signs and staff members who can take you to your favorite pieces. Plus, you'll still have access to all group fitness classes, all youth and adult programming, all community spaces, and our sauna, steam room, and pools. Use of other Y's within our association are also available for use during this time as a benefit to your membership is access to all Pierce and Kitsap locations.
We're here to help.
Your favorite machines and equipment are still here, and we want to help you find them! Our staff is ready to navigate you through the temporary relocation, and once we reopen the strength training space, we'll be providing tours, hands-on tutorials, and special incentives for members who access the gym.
More updates to come as we kick off construction and prepare to reopen - until then reach out with any questions.