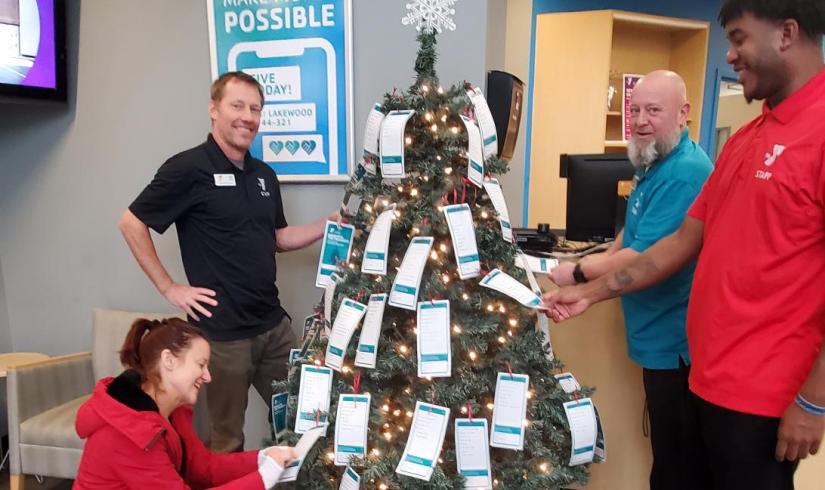 Our highly anticipated Giving Tree is underway and we invite YOU to help make this a cheerful holiday season for families in our community.   
If you find yourself asking, what can I do to make a difference in this world? Keep it local! Help your neighbor; spread kindness in every interaction; and give the gift of giving. 
Over the years, the Giving Tree has provided holiday cheer to thousands of families in our communities. Families in need of financial support find solace in the gifts provided to them by YMCA members. At the Lakewood Family Y, where the need in the community is noticeably higher, the spirit of giving has caught on like wildfire. More than 300 children will receive presents this year thanks to the generosity of members at the Tom Taylor, Morgan, and Haselwood Family Ys, who have chipped in to make sure Lakewood is embraced by the holiday spirit.  
A unit at Joint Base Lewis-McChord was so inspired by the Giving Tree that it started a toy drive on behalf of the Lakewood Y. A service member at JBLM felt so moved by the giving spirit that they promised to come back as a volunteer once all the toys have been collected.  
"We're grateful to this member as he wants to come, volunteer, and make sure all the kids have a great Christmas," said Yvette Lyons, senior health and well-being director at the Lakewood Y. "He's going to help us sort out all of the gifts and distribute them to kids in need this season." 
Many families that have benefitted from the Giving Tree have recently struggled with homelessness and are currently in transitional housing or are single parents raising five or six children. The relief of knowing their children will benefit from gifts during the holiday season is immeasurable.  
"Communities In Schools of Lakewood nominated 31 families for the Giving Tree. A lot of those families struggle with homelessness, are single-parent, or raised by grandparents," said Yvette. "Every response from the families has been, 'thank you so much, we didn't know if we were going to make Christmas happen this year,' or 'we weren't able to make the holidays happen last year.' It's just a huge relief for those families." 
To participate in the Giving Tree, head over to your local community center by December 16 and pull a tag from the tree. Each tag contains a wish from a family in need, including toys, clothes, or gift cards. You can also find tags that make it easier for families to participate in life-changing Y programming, like providing a foster child with a year-long membership at the Y or providing a child with a free week of day camp. Your support can make more possible for those of us who need it the most.