Steps for Success:
Review safety and etiquette guidelines below.
Choose your community center.
Look for a date and one-hour timeslot that works for you.
Reserve your timeslot. You can reserve one 45-minute lap lane reservation, per member, per day.
Receive confirmation of your reservation and then come in to reunite with your Y community!
Need help making a reservation? Fill out our YMCA Reservations Help form for assistance.
Review Our Safety and Etiquette Rules Before Reserving Time At YMCA Aquatics Centers
All Posted Pool Rules Apply to Maintain a Safe Aquatic Environment
Age Guidelines For Lap Swim and Water Aerobics
Ages 8-14 must be able to pass a lap swim test and be continuously lap swimming to reserve a lane
Members 15+ can reserve without a lap swim test
We recommend teens and adults ages 15 and older for water aerobics. Youth ages 8-14 may join but must be able to pass a lap swim test and be continuously lap swimming to reserve a lane
Masks and Social Distancing
Masks should be worn upon entering our Community Centers and should remain in place until a member is ready to exercise. After their workout, members should put their facemask on. Facemasks are not required to be worn in the pool while working out
Maintain six feet of distance from swimmers in adjoining lanes
Members who would like to sit and watch family members and friends must wear a mask at all times while on deck
Coming Prepared and Showers
Members should plan to arrive in their bathing suits as locker rooms will be closed, however, a shower will be available on deck to rinse off before and after swimming
Members must bring their own towel, bathing suit, cap, and goggles
Personal items should be kept on the pool deck within sight as the locker room lockers are currently off-limits.
Other Safety Considerations and Borrowing Pool Equipment
Be mindful that lane one has the chair lift accommodation for members with disabilities. Members may be asked to either move a safe distance away or to another vacant lane
Water walking is permitted as long as the member stays within their lane
If members borrow items (kickboard, fins, waist belts, etc.) please disinfect the items and place them on their corresponding shelves. Staff members are available to assist when needed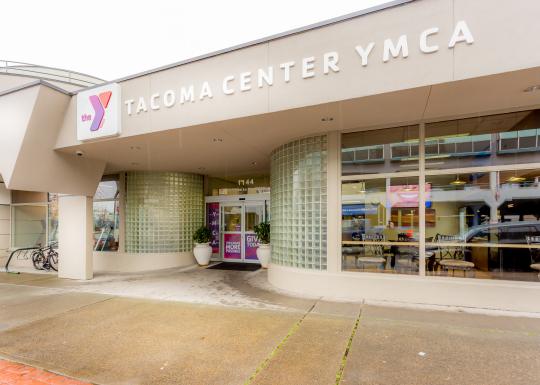 Tacoma Center YMCA
Please check back for updates.