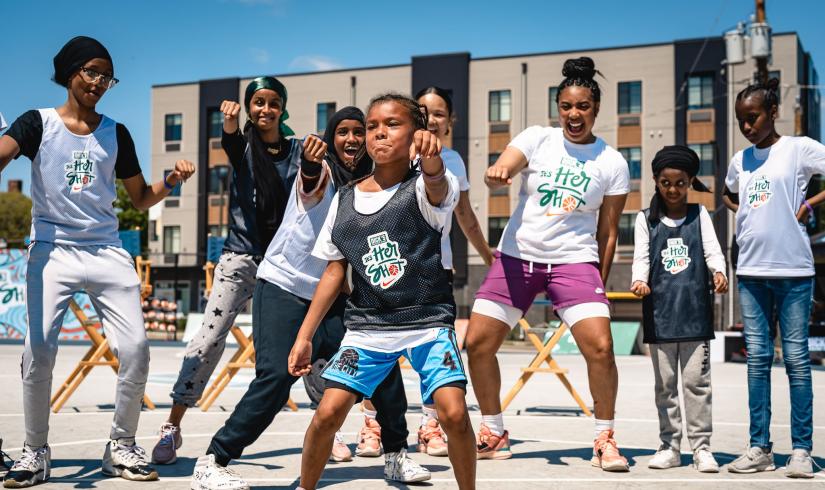 "It's Her Shot 2023 Tour" Designed to Empower Young Female Athletes to Take Their Place on the Court.
DICK'S Sporting Goods and Nike are kicking off the annual It's Her Shot campaign with a six-city tour across the U.S -- including a stop at YMCA of Pierce and Kitsap Counties' University YMCA Student Center in Tacoma, Wash., on June 10, 2023. 
It's Her Shot aims to create a space for girls to find joy in play, feel seen, safe, confident, empowered, and connected. WNBA Legend and three-time WNBA MVP, Sheryl Swoopes, will be in attendance along with past and present WNBA players and other notable basketball figures. 
"It's Her Shot" events feature: 
Pick-up games 
Pro-led practice drills 
Courtside chats with professional players, coaches, and legends 
Product giveaways and photo opportunities 
Appearances by the famous Hoopbus 
Sports bra fittings because proper fit allows athletes to move with comfort and confidence on the court. 
As part of this year's tour, The DICK'S Foundation is providing $120,000 in grant funding to help community partners create safe spaces for girls to play basketball year-round. 
It's Her Shot is free to attend with spots filled on a first-come, first-served basis. Athletes between 8 – 18 years old are eligible to participate and can sign-up online at itshershotevents.com.  
All hired female clinicians at the event participate in an official coaches training program through The Center for Healing and Justice Through Sport which seeks to integrate healing-centered coaching and play more deeply into sports. 
It's Her Shot debuted on the famed courts of Venice Beach in 2021 and has since stopped in six cities, hosted more than 2,000 youth athletes, and donated nearly $150,000 to youth organizations across the country. 
"The Y is proud to support 'It's Her Shot' and continue our commitment to the transformative impact sport can have in the life of a young person," said Charlie Davis, Chief Executive Officer, YMCA of Pierce and Kitsap Counties. "This initiative empowers women to embrace their potential, break barriers, and redefine what's possible. We believe that when a woman is given her shot, she becomes a force of inspiration, resilience, and positive change. We are ready to celebrate and amplify the voices of women as they step confidently into their power." 
"The attention women's basketball is commanding right now is incredible and a positive indication of where the game is headed," said Mark Rooks, Vice President, Category Marketing and Partnerships at DICK'S Sporting Goods. "Through this year's It's Her Shot tour we hope to continue the momentum at the grassroots level, create long-term impact in local communities and inspire young female athletes to build connections, play with confidence and take their place on the court. Nike has been a great partner and we look forward to working with them again this year." 
"At Nike, basketball is more than just a game, it's our soul. And we're excited to be part of bringing the sport to a new generation of young athletes through more grassroots opportunities like Nike x DICK'S It's Her Shot tour. We believe that through our partnership with DICK'S and the continuation of It's Her Shot, we can invite youth to find their confidence on and off the court and celebrate the power of sport and community," said Sarah Mensah, VP/GM, North America, NIKE, Inc. 
Read the full release from Dicks Sporting Goods and Nike. 
The YMCA is also offering opportunities for participants to reach new heights as a member with $0 join fees on the day of the event.