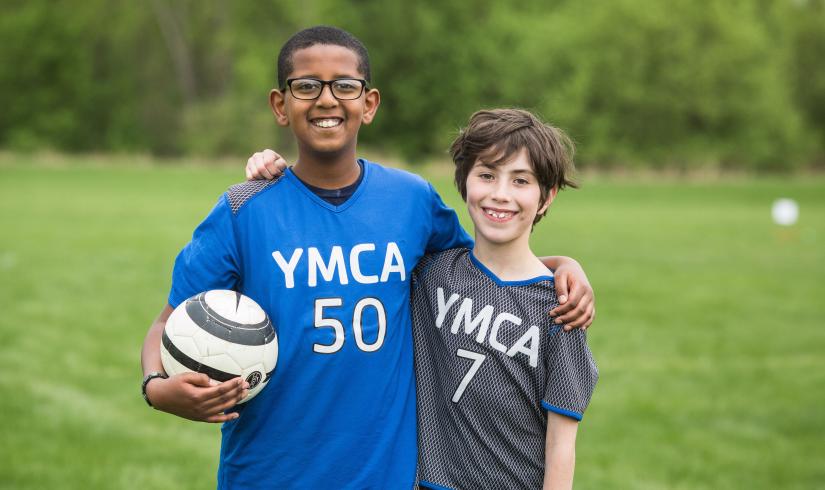 There are a lot of different ways you can help kids build healthy habits. At the Y, we believe that youth sports are a total game-changer for kids! Organized sports help build confidence, coordination, and character, but they also offer kids the chance to be kids and have fun. We offer free memberships to 1,314 kids in foster care so that they can have access to the Y and activities like youth sports. 
 
Sports Help Kids Stay Active and Healthy 
So why exactly are youth sports so important for kids? Well, first, they're a great way to stay active and healthy. With childhood obesity on the rise, it's more important than ever to encourage kids to get up and move. What better way than by joining a youth sports team? Whether it's dribbling a basketball, swinging a bat, kicking a soccer ball, or running up and down the court, kids are burning calories, building strength, and establishing healthy habits that are bound to keep them strong for years to come. 
 
Team Sports teach Leadership and Communication 
Youth sports are more than just physical fitness. Sports also provide a space for kids to learn important life skills such as teamwork, communication, and leadership. In youth sports, kids learn to work together to achieve a common goal, and because they're playing alongside kids their own age, they learn to communicate and cooperate with others – an invaluable skill that they'll carry with them throughout their lives. 
 
Sports Can Offer Kids a Confidence Boost 
Sports can also give kids a big confidence boost! When a kid makes a goal or crosses home plate, they feel a swell of pride and a sense of accomplishment. As they continue to improve, their confidence grows, which can help set them up to tackle challenges both on and off the field, whether it be at home, school, or later on in life. 
What Parents can Expect from YMCA Youth Sports Programs  
What can you, as a parent, expect when your child joins a youth sports program at the Y? First, the Y is known for being a safe and supportive environment where kids can learn, grow, and have fun. Our coaches are trained to help kids develop not just their athletic skills, but also their character as the Y focuses on instilling our core values of caring, respect, honesty, and responsibility across all of our programs. 
Last, but definitely not least: the fun factor! We believe that kids should have a blast while they're playing sports. We think it's important to keep things light and entertaining, so kids can focus on having a good time while they're learning and growing. 
If you're looking for a fun, safe, and supportive environment for your child to learn new skills, grow into who they want to be, and have a blast doing it, then youth sports at the Y are the perfect choice. Who knows? You might even end up with a future MVP on your hands!  
Sign up your child for a spring youth sports program at the Y beginning February 22, and get ready for some serious fun!