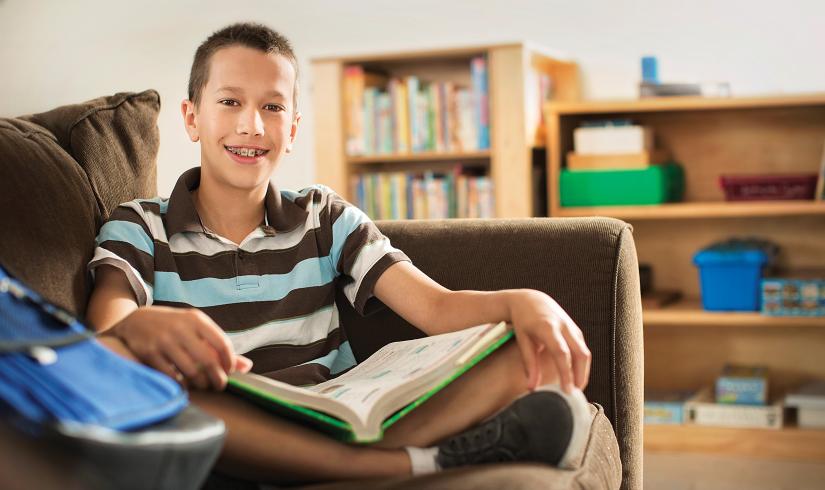 Every parent knows that when it comes to raising kids, their health and happiness are the most important things. Encouraging consistent exercise, nutrition, and other skills can benefit them for the rest of their lives. Starting healthy habits when we're young is especially important because of the cognitive development that takes place at an early age. The earlier we develop positive, healthy habits the more likely those habits will carry through the years and into adulthood. 

With school back in session, it's a fantastic time to cultivate and refresh good habits – not only for kids but for the whole family! At the Y, we are passionate about helping youth and families reach their full potential. Check our schedules today to see how a new program can work into your family's routine.

Here are six ways to build a healthier, happier future for your kids:
1. Move every day

Exercising every day can help kids manage their sleep schedule, improve their mood, and decrease stress. It can also do the same for parents! Hiking, swimming, biking, going for walks, or other recreational activities are all great activities to enjoy together. It's recommended that children complete at least one hour of active play each day. Try simple, affordable options such as dancing, jump rope, or basketball and select different locations to keep it fresh — public parks, playgrounds, and the Y are all great options.
2. Little choices make a big impact 

A habit is something we do every day without thinking about. The little choices we make throughout the day are the same little things that quickly turn into daily habits. Daily habits deeply impact our lives by how we choose to lead them.  
Every choice you make changes who you are becoming. Every choice changes us and places us one step further in any given direction. Poor choices will lead us away from our goals. Positive choices will get us closer to where we want to go.
One of the best ways to help kids make positive choices is to model positive behavior. It's important to help them understand that the value of their choices isn't based upon age, but upon the impact each choice can have, such as wearing a seatbelt, brushing our teeth, or practicing an instrument.
3. Nutrition starts at home 

No surprises. What you eat is the foundation for how your body performs every day and it's important for all ages to fill their tank with the best fuel possible. Establishing a healthy relationship with food is knowledge that kids can use for their whole life.
Cooking at home is a great way for kids to start learning about nutrition. Being in the kitchen can also help with independence, progress picky eaters to try new things, and spark creativity. You can also sign up for a cooking class with expert teachers engage kids through recipes while teaching kitchen safety, cleanliness, and art. You can also have fun at home making recipes or accessing free tutorials through YouTube. 
4. Try new things every day

Change is challenging. Inviting new things into our comfortable life is something many of us would prefer not to do. Encourage your kids to resist this kind of comfort and step into a new situation or challenge their thinking at every opportunity. Maybe it's a new food, a new activity, or possibly even striking up a conversation with a new friend. This one habit will help kids step outside of their comfort zone and do incredible things in life.
5. Connect to your heart

After feeling isolated by the pandemic, it's even more important to help kids make connections in their community to serve their emotional and social needs, the heart of their development, and learn more about who they are becoming.

Making connections outside of school can be found through an extracurricular sport, volunteering at a local nonprofit, or through other networks they may be interested in. This is a great opportunity for kids to step out of the identity they may have at home or in class. 

Connecting more deeply can also happen at home, whether it's cultivating a stronger sibling relationship, helping set the table for family-time, or simply acknowledging one another in a more wholehearted way.
6. Rest and relaxation

Along with exercise and nutrition, making time for enjoyable and relaxing hobbies has many benefits as well. Art and music are both constructive outlets for children of all abilities to express emotions and relieve anxiety. Reading, drawing, dancing, clay modeling, cooking, LEGO, or making slime are all great options for kids to choose from depending on their energy level.
Of course, winding down is key to getting a good night's sleep. While sleep is important at any age, it's especially for children as they grow and develop. The National Sleep Foundation recommends the following: 
Newborns (0-3 months): 14-17 hours each day
Infants (4-11 months): 12-15 hours
Toddlers (1-2 years): 11-14 hours
Preschoolers 10-13 hours
School-age children 9-11 hours
Teenagers 8-10 hours
Keep in mind, these are recommendations. Talk to older children about the importance of listening to your body for times when you may need more rest.

Tell us more of the ways you like to help your kids develop healthy habits, whether it be signing them up for classes at the Y, challenges you work on together, or how you may be modeling the best behavior for their future.