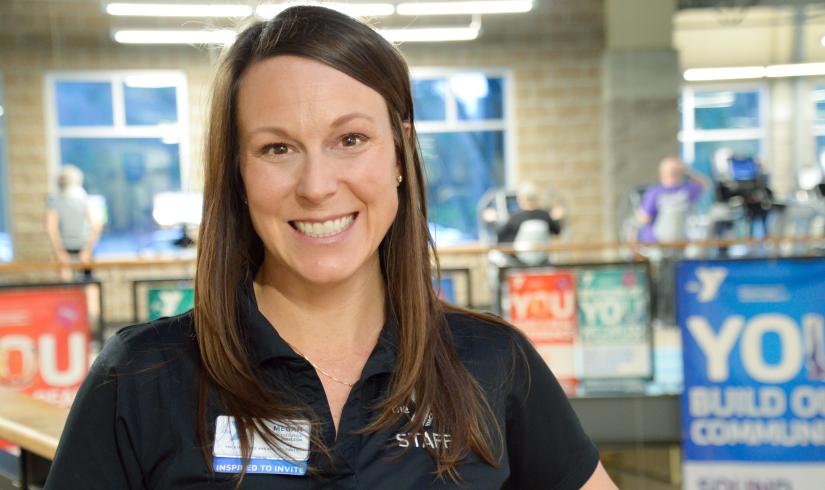 A Message from Megan Sala, Executive Director
I've been fortunate in that I have had the opportunity to serve in three communities in our Association. First at the Morgan Family YMCA followed by five years at the Tom Taylor Family YMCA and most recently at the Lakewood Family YMCA. While my role and experiences were different in each community center, what has remained consistent and true are the friendships made, memories created, and the dedication of the staff to serve each community.
This past year in leading at the Lakewood Family Y as the Executive Director, under ever-changing circumstances, has reinforced the important role the Y plays in the lives of our members. Members have shared countless times how thankful they are to be back reconnecting with their friends. They've shared how much they missed their routine of working out on specific pieces of equipment, time spent in the pool, or attending group exercise classes. I will miss the team and the Lakewood community.
I am excited to return to the Tom Taylor Family YMCA and serve the community in which I reside. Gig Harbor has been my home for the past six years and upon my return to the Tom Taylor Family YMCA, I will continue to serve alongside a team that is committed to helping members thrive through connection and exercise.
The YMCA is the hub of our community. Our purpose is to support and serve the community, bring people together to create healthy habits and provide a space to create lasting friendships.
I am thankful for the opportunities I've had, the friendships I've made, and I'm looking forward to what is to come!
---
MORE ABOUT MEGAN
Prior to serving at the YMCA, Megan worked over a decade in college athletics with a focus on marketing and operations. She started her career at Indiana University as an Assistant Director of Marketing. After five years in Bloomington, Indiana, she traveled west and spent a few years in Colorado as the Director of Marketing for the Western Athletic Conference. Three years later, Megan headed to Texas A&M-Corpus Christi, which would be the last stop in her collegiate career, leading the Operations for the Athletic Department as their Assistant Athletic Director for External Operations.
Shortly after joining the Y in Gig Harbor as a member, Megan started her career as a part-time staff member in the Membership Department at the Morgan Family YMCA. This led to many other roles, including working at the Engagement Center in the Association Office and then at the Tom Taylor Family YMCA as a Membership Director, Senior Member Services Director and Associate Executive Director. Upon re-opening the Y in September, Megan transitioned to the Lakewood Family YMCA serving as the Executive Director.
Megan was born in Tucson, Arizona, and is a graduate of Washington State University (Go Cougs!).