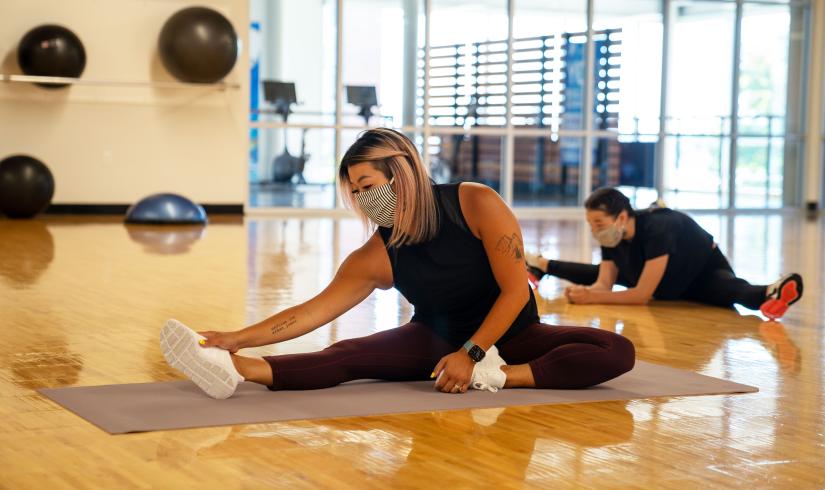 We are reopening your Y to offer indoor workouts on January 11! Indoor workouts include cardio and strength equipment, the track, and more. Additional offerings include outdoor workouts, outdoor group exercise classes, lap and recreational swimming, water aerobics, Outdoor Adventures at YMCA Camp Seymour, and virtual classes. 
YOUR HEALTH IS IMPORTANT 
The Y was founded on a holistic health approach of spirit, mind, and body. Our goal is to provide a community and programs that bring people together, create a sense of belonging, and foster good physical, mental, and emotional health. Collectively, we need this focus on our health more than ever. Washington State recognized this need and made an intentional effort to create opportunities for us to improve our holistic health together.
"[The Healthy Washington - Roadmap to Recovery] goes toward the balance of mitigating disease spread and taking a pretty cautious approach to bring people the opportunity for physical health, the mental health benefits that go along with physical activity, and participation in the arts," said Lacy Fehrenbach, Deputy Secretary for COVID-19 Response at Washington State Department of Health during the Governor's press conference on January 5. "We have taken a very cautious approach ... in terms of ensuring spacing, requiring mask use for any indoor activity ... and really trying to build a slow gradual return to doing the things that bring us joy in our lives and provide us other health benefits."
We are committed to welcoming our members indoors in a safe way that supports the state's effort to slow the spread of COVID-19 and we need your help. 
#MaskUpWa
One of the most significant changes you'll see is our commitment to preventing the spread of COVID-19 through face coverings. Washington state requires individuals to wear a face mask at all times - indoors and outdoors and while working out. The Y is committed to creating a safe environment for everyone, please wear your mask. Any of us can carry the virus and not realize we're spreading it when we talk, cough, or sneeze. Face coverings are required indoors and outdoors at the Y because they are effective in slowing the spread of COVID-19, especially when combined with six feet of physical distance.
STAY WITH US
Thank you to everyone who has stayed with the Y, and thank you to those who are returning in January. Here's how you can engage to prepare to return to your Y:
SAFETY GUIDELINES
Here's a brief overview of how the new Healthy Washington - Roadmap to Recovery guidelines impact our Y in Phase 1, beginning January 11:
From November 2020 to January 10, 2021, all indoor fitness was entirely prohibited. Washington State Department of Health now believes that the state can safely allow appointment-based fitness and training where there is no more than one customer per room or 500 square feet for large facilities. This will allow gyms to schedule people wanting to come in to work out in a safe way to ensure activity during winter months. Masks and physical distancing are required.
Masks are required at all times at the Y, including while engaged in physical activity indoors and outdoors. This supports our collective effort to slow the spread of COVID-19 in our community.
Indoor classes are available with limited group sizes. Please 

make a reservation

 to ensure your spot.
Outdoor group exercise classes allow one staff and 20 members spaced in pods of five. Please

make a reservation

to ensure your spot. 
Appointments are required by state guidelines to visit the Y and are limited to two 45-minute session per day. Please

make a reservation

before you visit.