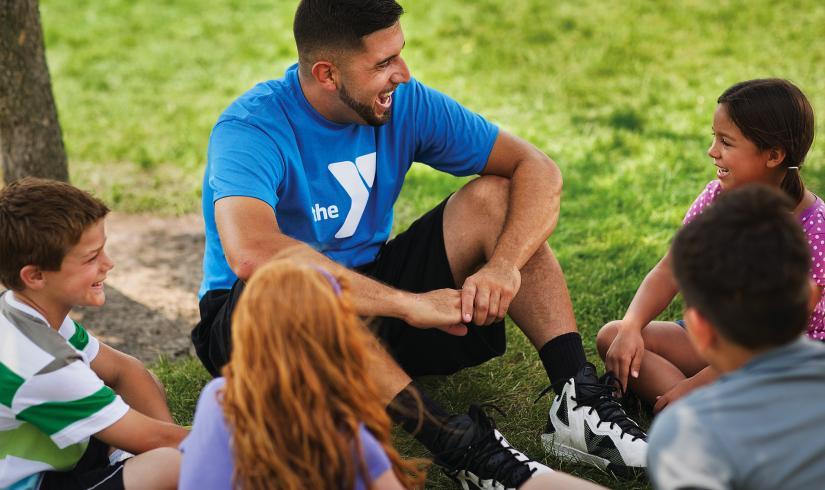 Join the Y in celebrating Hispanic Heritage Month from September 15 to October 15!
In honor of Hispanic Heritage Month, we've pulled together a guide of local events to celebrate, empower, and advocate for the Hispanic community in the South Sound and Key Peninsula. Learn more about our commitment to community and opportunities for all at the Y.
What is Hispanic Heritage Month? 
This heritage month is dedicated to celebrating Hispanic and Latinx Heritage. Its purpose is to raise awareness of the contributions of Americans with Mexican, Puerto Rican, Cuban, Central or South American, or any other Latin American heritage. 
President Lyndon Johnson instated this observation in 1968, then called Hispanic Heritage Week. President Ronald Reagan later expanded it in 1988 to include a 30-day period that started on September 15 and ended on October 15. This was made into law on August 17, 1988. 
What does Hispanic/Latino(a)/Latinx mean? 
While many people use Latino(a) and Hispanic interchangeably, these two words mean different things. A Hispanic person is someone who comes from or is a descendant of a Spanish-speaking country. Latino(a)is used when referring to someone who comes from Latin America or is a descendant from any Latin American country. A person can be both Hispanic and Latino(a), but not all Latinos are Hispanic. Brazilians, for example, are Latinos, but their native language is not Spanish. Conversely, not all Hispanics are Latino(a). Spaniards are considered Hispanic, but not Latinos, since they are part of the European Union. 
Latinx is a gender-neutral or nonbinary alternative to Latino or Latina, also commonly used as a way to define a person of Latin American origin or descent. The term has been widely debated in advocacy groups, and hasn't been widely adopted among people with Latin American heritage in the U.S. More information on the popularity of this distinction is available via the Pew Research Center. 
How does the YMCA advocate for the Hispanic community? 
Our community centers are a welcoming space for all, and we are committed to providing language resources and services for the Spanish speaking community. Our mission is to ensure that everyone, regardless of ability, age, cultural background, ethnicity, faith, gender, gender identity, income, race, or sexual orientation can reach their full potential.
List of 2022 events in Pierce and Kitsap Counties
Join the Y in sharing these events with friends and family, and in celebrating Hispanic Heritage Month in the South Sound! Visit your local Y to find your community today.
Festival Latinx By Tacoma Arts Live Latinx Unidos of the South Sound 
Tacoma Arts Live has teamed up with Latinx Unidos of the South Sound to celebrate Latinx communities of the South Sound, with music, dance, art, crafts and more. Many performances will be available to enjoy, including mariachi, salsa, cumbia and more. You can also find vibrant visual arts and a mercadito (a mini market) where you can find crafts, fine art, jewelry and other treasures. Grab a fantastic meal from the food vendors and soak up the culture of the Latinx community. 
Date and Time: Saturday, September 24, 2022 | 12pm - 5pm 
Location: Tacoma Armory | 1001 S Yakima, Tacoma, WA 
Fiesta De La Familia at Lakewood's Colonial Plaza Saturday Street Festival 
This family-friendly festival features food, a beer garden, live entertainment, an art show, and hands on crafts! Multiple entertainers are scheduled to perform throughout the day, and there will be a sand artist in action. Balloon making, face painting, and more activities will be available for children. As a special treat, KBTC TV is providing hands on activities for the kids and a special PBS KIDS character - Alma from Alma's Way!
Register on Facebook

Date and Time: Saturday, September 17, 2022 | 4pm-7:45pm 
Location: Lakewood's Colonial Plaza | 6114 Motor Avenue SW, Lakewood, WA 
American Kapwa: The Spirit of Community | Youth and Community Summit 
Lochburn Middle School is inviting students from 6-12 grade, teaching staff, parents, and community members to immerse themselves and learn about Filipino American History and culture. This event will feature workshops, cultural displays, performances, demonstrations, contests, food, and great fun for the whole family. 
Date and Time: Saturday, October 22, 2022 | 10am-3pm 
Location: Lochburn Middle School | 5431 Steilacoom Blvd SW, Lakewood, WA 
Hispanic Heritage Month Events at the Waterfront Market at Ruston 
There are multiple events spanning September 15 to October 15 at the Waterfront Market in Ruston. They include fiestas, an art exhibition, cooking classes, and even a family movie night, with Encanto's Mirabel coming to greet children! There is so much to do, thanks to the Hispanic Business Association and the efforts of businesses in the Ruston community. 
Dates: September 17, 23 and 29, and October 2, 7, 8, and 15 
Location: Point Ruston Public Market | 5101 Yacht Club Rd, Ruston, WA 
Taste of Cuba and Mexico Fundraising Event 
This fundraising event is complete with a Cuban dinner, a live silent auction, and live music by Sin Embargo. This benefits Tacoma's two Sister Cities: Boca del Rio, Mexico, and Cienfuegos, Cuba. Tickets include a delicious dinner, opportunities to dance to music from Sin Embargo, special desserts, and a great auction event. There will be information on how to support a Cienfuegos film director, as well as student exchanges from Boca del Rio. 
Date and Time: Saturday, October 1, 2022 | 5:30-8:30pm 
Location: Asia Pacific Cultural Center | 4851 S Tacoma Way Tacoma, WA 
18th Annual Tacoma Art Museum Día de los Muertos Festival 
Día de los Muertos at TAM is one of the Tacoma area's most beloved Fall traditions. The Museum's mission is to transform our communities by sharing art that inspires broader perspectives and cultivates a compassionate future. TAM's annual Día de los Muertos Festival brings together community organizations, schools, families, and individuals to create altars, celebrate, and share. More details to come! 
Stay up to date with the festival
Date and Time: Sunday, November 6, 2022 | 12-5pm 
Location: Tacoma Art Museum | 1701 Pacific Ave, Tacoma, WA 
2022 Dia de los Muertos Celebration on 6th Ave 
While this is only the second Dia de los Muertos celebration on 6th Ave, it is a highly anticipated local event! The goal of this festival is to "remember the dead and party for the living". Many participants paint their face and get dressed up, but you are also welcome to come as you are. There are opportunities to learn more about history, join a sidewalk skeleton parade down 6th Ave, listen to live music, eat Latin food and shop local craft vendors. This is a free family friendly community event. 
Date and Time: Saturday, October 29, 2022 | 2-8pm 
Location: Tapco Credit Union | 2802 6th Ave, Tacoma, WA