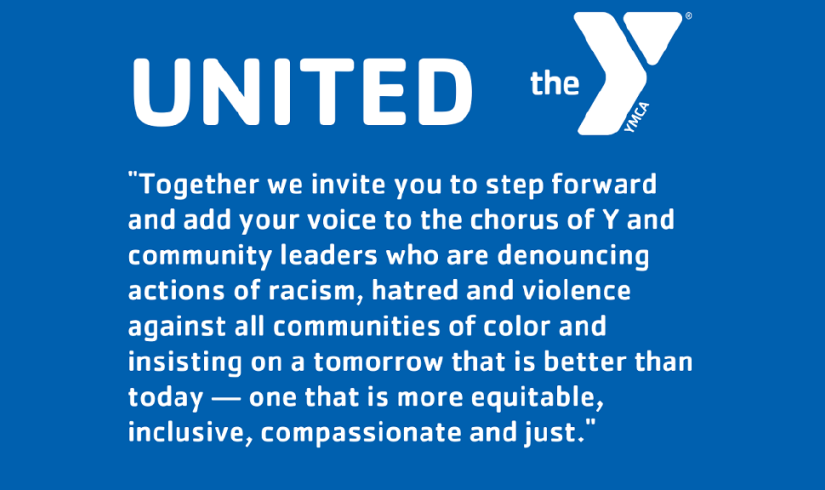 As a YMCA family, we are heartbroken at the avoidable, needless and tragic deaths of African-American men, women and trans identified individuals across our nation. Our hearts are filled with pain, frustration and a fierce desire for change – emotions we are sure many of you share with the loss of Breonna Taylor, Ahmaud Arbery, George Floyd, and the many who have preceded them. At the Y, we believe that all Black lives matter, and extend our sincerest thoughts, prayers and condolences to the families and loved ones of all whose lives have been tragically cut short — and to all our YMCA colleagues, members, volunteers and communities who are hurting today.
Our nation (and world) is truly battling two insidious viruses at present: COVID-19 and racism. Both are disproportionally affecting communities of color, though they truly impact every one of us, regardless of creed, color or background. Both have clearly revealed the pronounced and widening gaps in health, educational and employment equity that are oppressing many communities of color.
We can and must join together to be a thread of humanity and love that helps knit together our fraying social fabric through non-violence, compassion and education. Now and always, we believe that compassion and inclusion are the embodiment of our collective strength, that what unites us will always be stronger than what divides us, and that racism, sexism, ableism, anti-Semitism, homophobia, xenophobia, islamophobia and any other form of hatred, prejudice stereotyping and discrimination have no place in the Y, or in the communities we serve. Not now, and not ever.
Our impact – and relevancy – as a multicultural nonprofit organization focused on strengthening community is directly tied to our efforts to fight for greater inclusion and equity for all, especially for our most marginalized communities. This work is rooted in our inclusive mission and is the soul of our movement. History will remember our actions during these challenging times.
Together we invite you to step forward and add your voice to the chorus of Y and community leaders who are denouncing actions of racism, hatred and violence against all communities of color and insisting on a tomorrow that is better than today — one that is more equitable, inclusive, compassionate and just. 
In these unprecedented times, the Y is uniquely positioned to address our social challenges and must answer the call to lead.
In solidarity and service,
Dave Brown, Chair, AA CEO Group, President and CEO, Capital District YMCA
Steve Ives, Vice Chair, Diversity, Inclusion, and Global Leadership Council, President and CEO, YMCA of Greater Houston
Toni Kayumi, Chair, Diversity, Inclusion, and Global Leadership Council, President and CEO, Ann Arbor YMCA