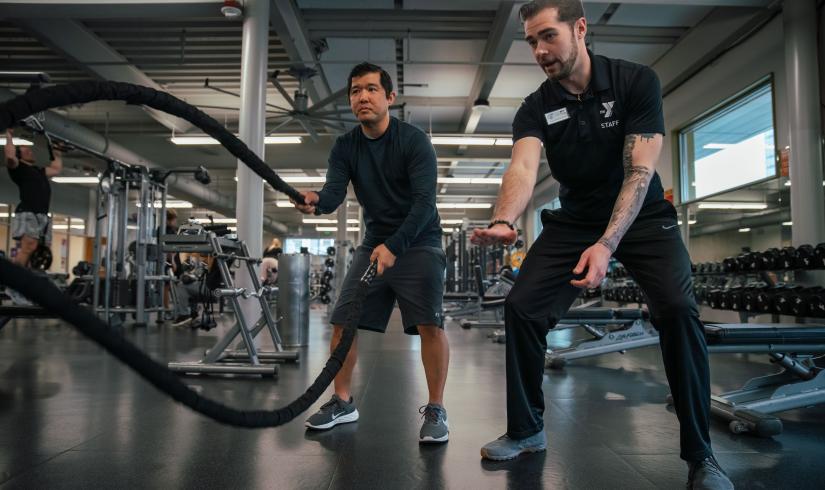 Do you ever feel intimidated by the weight room? You're not alone. The truth is, lifting weights is one of the best things you can do for your health. We're here to help you build confidence across every area of fitness and you can do so by signing up for our KickStart coaching program! 
What is the KickStart program?
KickStart is free to all Y members and designed to help you get started with all the resources that the Y has to offer. In this program, you'll work one-on-one with a caring coach who will show you the ropes and help you develop a workout plan that's tailored to your fitness goals. 
We get it – the weight room can be a little intimidating at first. But with a KickStart coach to show you the ropes, you'll have someone to show you how to use the equipment and answer any questions you might have. Before you know it, you'll be a regular in the weight room! 
KickStart is also a great way to overcome "gymtimidation." It's common to feel self-conscious when you're new to the gym or a new fitness arena, especially if you're not sure exactly what you're doing. The Y is a judgment-free experience. What's more, you'll be more inclined to get over those "terrible first times" with a KickStart coach to guide you. Soon you'll feel more confident and empowered to take on new challenges. 
How our Fitness Coaching Program Helps You Reach Your Goals
Of course, the goal of KickStart is to help you reach your fitness goals and strength training is one of the most effective ways to do just that. Check out all the reasons why strength training is great for your health and you'll understand why it's no wonder that strength training is a key component of a well-rounded fitness routine. And the Y is the best place to unlock your potential!   
You may be curious what you can expect from a KickStart coaching session? Here's a sneak peek: 
You'll start with a fitness assessment. Your coach will ask you about your fitness goals, your current fitness level, and any health concerns you might have. 
Your coach will then take you through a series of exercises to assess your movement patterns and identify any areas that need improvement. 
Based on your fitness assessment, your coach will help you develop a customized workout plan that's tailored to your goals, body type, and fitness level. 
Your coach will then guide you through your workout, showing you how to use the equipment and offering tips and feedback along the way. 
Finally, your coach will offer suggestions for your next workout and guidance on how to continue progressing toward your goals. 
At the Y, we believe that everyone should have access to the resources they need to live their healthiest, happiest lives. That's why we offer programs like KickStart coaching – to help you overcome obstacles, reach your goals, and feel confident and empowered every step of the way.  
Not a member yet? Don't wait to sign up! Spring into strength with KickStart coaching at the Y using the code KICKSTART and learn how you overcome any obstacles with a personal coach.