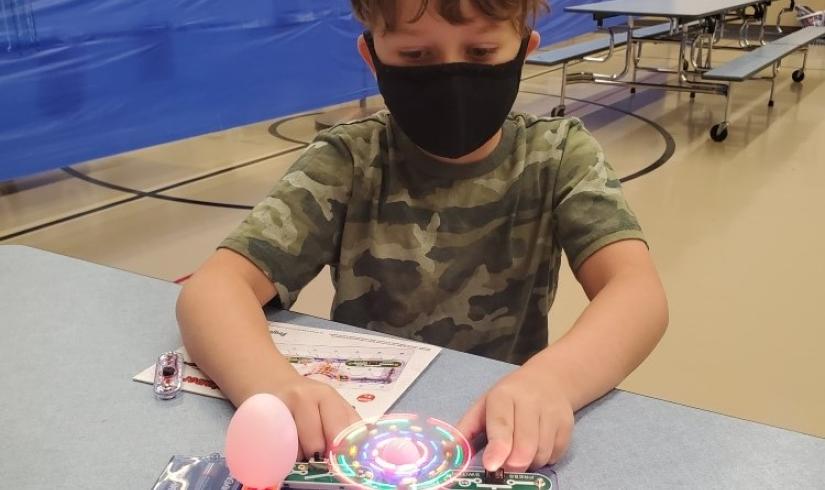 Forever Learning
The Y has continuously evolved to meet community needs during the COVID-19 pandemic. This school year, hundreds of elementary school kids are spending their days at YMCA Child Care engaged in distance learning and physical activity.
"We enjoy seeing the kids, parents, and guardians every day and making this school year a positive experience," says Tara Harkness, Executive Director of YMCA Child Care. "We are so proud of the kids for being prepared and staying engaged throughout the day."
Students are dropped off by a parent or guardian each day with their devices, books, and any other equipment needed to be successful for the day. Y staff start with a health screening of each other, students, and parents and guardians. Students work in small groups with a 15:1 student-to-staff ratio and honor best practices in health and safety such as physical distancing and wearing masks. Y staff and students work together to clean and sanitize throughout the day.
"We are benefitting because my boys are getting socialization in a safe environment, something they haven't had in months," says Ellisandra, a YMCA Child Care parent at Blix Elementary. "My older boys are getting a break from their little brothers and quiet to concentrate on their schooling from home. I appreciate the help with distance learning because assisting four children attending three schools and communicating with 13 teachers has been overwhelming. I'll also be able to return to work and was able to enroll in online classes at TCC which benefits the whole family long-term."
One of the highlights of the day is engaging with the kids in physical activity.
"With kids in front of screens for so much of their day, we get excited to go outside and move!" says YMCA Child Care Director Marques Green. "Kids are running around, playing sports, and engaging with each other, which we love to bring to their day."
This work would not be possible without our school district partners.
"Every superintendent has been flexible and creative to meet our students' needs," says Charlie Davis, President and CEO of the YMCA of Pierce and Kitsap Counties. "We deeply value our partnerships with the schools and believe our work together is making a huge difference in the education of our students and the quality of life for our families."
YMCA Child Care is currently serving 600 students every day in seven school districts. One-third of families receive a YMCA Experience Scholarship or third-party financial support to subsidize program fees. Donations can be made online at ymcapkc.org/give.
Learn more at ymcapkc.org/child-care or make a donation to support YMCA Child Care.