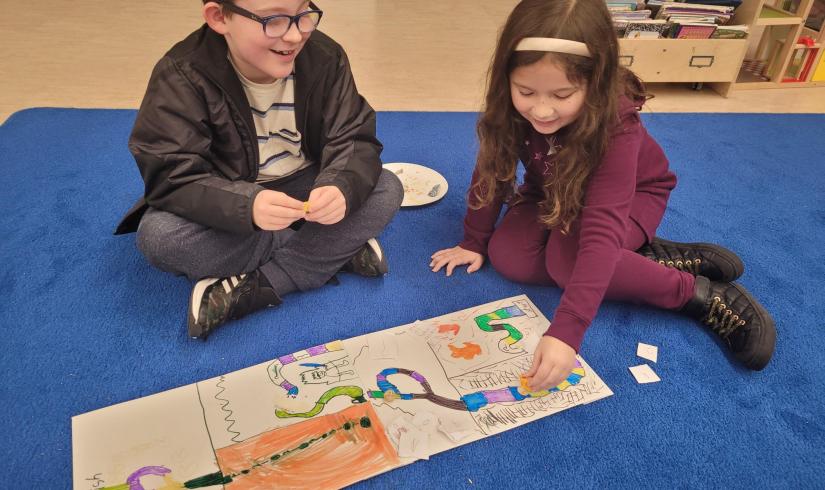 Child Care Winter Break Recap: Adventures in Candyland
Kids in our Winter Break Camps had the opportunity to create their very own game boards. Then, flexing their creative muscles, they drafted unique rules, created interesting characters, and dreamt up new worlds.   
Across Pierce and Kitsap Counties, school districts started winter break with snow and an imaginative spark. For recent Winter Break Camp parent participant Alyssa Hutchinson, the Winter Break Camp at Geiger Elementary was excellent!   
"It was more than just sports and activities. They were able to be creative, and every evening they loved to share with me the projects they did for the day. The crafts were their favorite. I would absolutely take my kids to the break camp again!"   
Over 3 weeks, the Y served around 270 kids for Winter Break. These numbers have increased since the last school year, even with the challenges of inclement weather, encouraging us to continue our reach and growth. 
Deepening Community Connections in a familiar place
The YMCA offers Winter Break Camps in our community centers and local schools where we serve for childcare. Break camps in schools allow kids to be in a familiar environment around kids they know and meet local kids that they may not know. 
"It was a great opportunity to form a deeper connection with the kids we have and spend some focused, quality time with them that we are not typically able to do in a larger group setting," said Jessie Steinlicht, Senior Child Care Program Director in Kitsap County.   
"The kids and staff were all engaged and having fun being a part of the Candyland world they created! We had kids from over five different schools. It was fun seeing how they supported and played with each other regardless of whether they knew each other from class or their home YMCA [Child] Care site." 
The Longevity and success of the Y Winter Break Camps
Tacoma was a massive success for Winter Break Camps. According to the Child Care Program Director in Pierce County, Miranda Gjerde, the Y was the only childcare provider in the area for Winter Break Camps.   
 
"This year, we were the only childcare providers in the area for winter break. We successfully provided over 90 students with a full-day camp at Washington Elementary, sharing our Candyland Adventure with all the children and families," said Gjerde.   
 
Although inclement weather was present during the camp, the Y served a total of 4,160 hours in capacity, a drastic increase from the previous year. As a long-time childcare service provider, the Y values providing families with options to feel confident.  
 
The next break camp will be available in spring. Registration will be announced through our website, social media, and email. To learn more about our camp, visit: https://www.ymcapkc.org/spring-break-camp