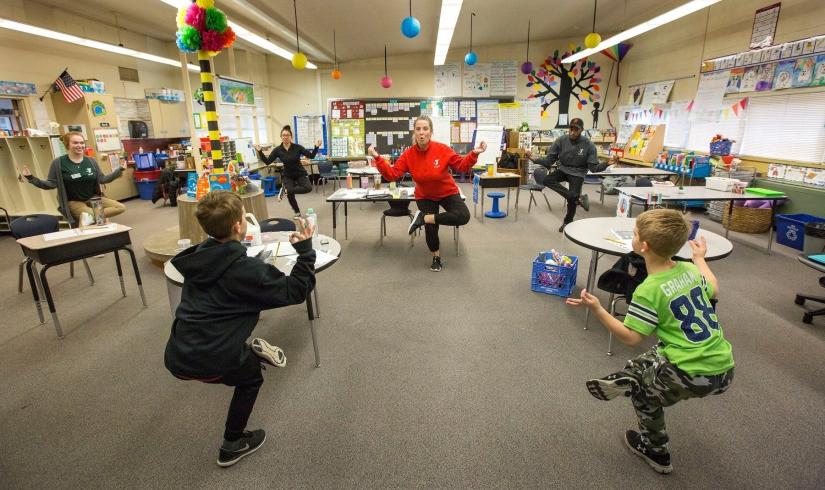 When Governor Jay Inslee announced school closures to slow the spread of the coronavirus on March 12, many parents were suddenly left without child care. Families needed to quickly figure out how to balance full-time caregiving and full-time homeschooling with their full-time jobs. This problem was especially challenging for health care workers, first responders, and essential workers who were fighting the COVID-19 pandemic. They urgently needed care for their children so they could continue to work — our community was depending on them.
The YMCA of Pierce and Kitsap Counties has partnered with local school districts to meet the need for those families. In just over a week, the Y was running full-day child care sites at 14 schools in seven districts. Care is offered free of charge for essential workers, so these heroes can focus on their responsibilities, knowing their children are in a safe, enriching environment.
The Y is proud to serve over 300 children and their families during this difficult and stressful time. YMCA Child Care sites provide kids with a sense of normalcy during a moment of crisis with activities designed to keep kids engaged in learning while schools are closed. Children also receive nutritious lunches prepared by the kitchen staff at YMCA Camp Seymour.
Relieving a Single Mom's Stress
As a single mom and a physician assistant caring for high-risk patients, Kate wasn't sure how to keep working and care for her daughter, Grace, after her school closed to slow the spread of COVID-19. Friends helped for the first week, but Kate knew she couldn't ask them to watch her child for weeks or months on end. She was considering sending Grace to live with her aunt temporarily when she found out the Y was partnering with the school district to provide free child care to health care providers.
"The YMCA overall has been huge in my ability to work as a single mom and provide care for my daughter while I'm working long hours," Kate says. "It's been a wonderful program."
Grace had been enrolled in the YMCA's Before and After School program before, but the expansion of the program to full-day care was a godsend, she says. She appreciates that Grace is in a safe place that prioritizes the kids' health and hygiene, supports their academic development, and also gives them time to have fun and be social.
"[The staff are] going through a stressful time, too, but they always have positive energy. That has helped Grace, but it also helps me, because I know the YMCA staff are taking good care of my kid for 10 hours a day. That's been incredible. It's an answer to prayer."
Helping Parents Serve Thier Patients
When her children's school closed, Anita wasn't sure what their family would do. Anita and her husband are both registered nurses and they own a small business. With a public health crisis looming, they knew they would both need to work full-time, but without school for their kindergartener and first-grader, they didn't know how they would do it. With the family at risk of being exposed to the coronavirus, their regular babysitter or grandparents weren't an option.
"It was a pretty rough week that first week," Anita says. "My husband had to adjust his schedule and cut his hours. I wouldn't finish up my charting until past midnight. I knew that it was not going to be a sustainable thing for us."
So, when Anita found out that the Y would be offering free child care for essential workers in partnership with the school district, she was relieved. Now, their kids receive care all day and get to participate in fun activities, while also working on their academic packets. Through it all, the kids have been able to stay together — a bright spot in a difficult time.
"It's been a huge relief to have daily, reliable, health-oriented, activity-oriented, and wholesome care for my kids," says Anita. "It's been a huge blessing."
She also appreciates the precautions YMCA Child Care is taking to ensure the safety and continued health of the children in their care. Staff at school sites screen everyone for symptoms of COVID-19, enforce social distancing, and encourage good hygiene practices, such as regular cleaning of frequently touched surfaces and handwashing.
"I don't know what we would do at this point without child care through the Y. It's been really convenient and kind of amazing for us."
Support the Y's Crisis Response
In these unprecedented times, the Y is committed to addressing the most urgent needs in our community, from child care to virtual exercise classes to reducing social isolation. The Y isn't collecting membership dues right now, which means we're counting on your generosity more than ever. You can help strengthen our community in the midst of the pandemic by donating today or becoming a cause-driven member.