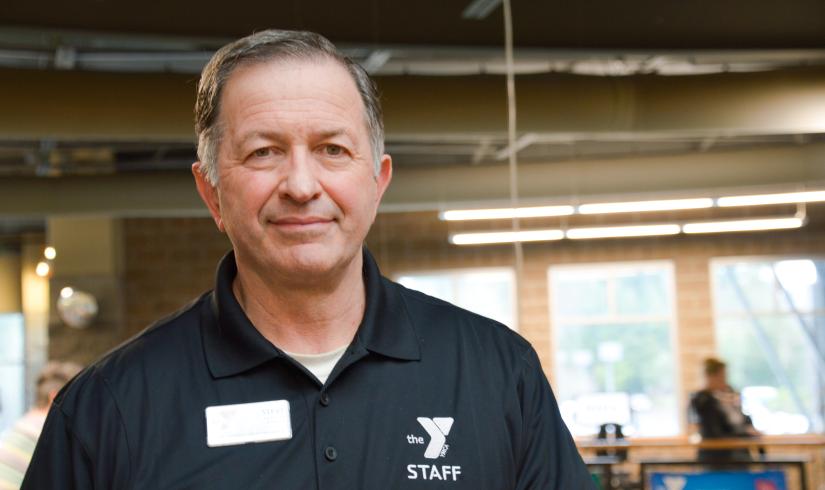 After more than 40 years of devoted service, Steve Triller will retire from the Y on June 30. Please join us in wishing Steve a well-deserved and rewarding retirement.
Steve joined the Y in 1981 as the Director of Court Sports at the Pearl Street YMCA (now known as the Morgan Family YMCA). With a passion for fitness, he held a variety of positions over the years at the Morgan Family YMCA focused on adult health and wellness. Steve also found a gift in telling the Y story and supporting the Y's annual fundraising campaign. He eventually took a position leading membership and major gifts at the Morgan Y. Steve has spent the last seven years of his career as an admired executive director at the Tom Taylor Family YMCA. He has led an incredible staff team, knows almost every member, and has fostered deep relationships with donors. Please read more below from President and CEO Charlie Davis and from Steve about his career and long-lasting contributions to our Y.
More information regarding a recognition event is coming soon. The Y's leadership staff are actively engaged in conversation regarding future leadership of the Tom Taylor Family YMCA. We will share more information regarding the Executive Director role in the coming weeks.
It has been a privilege and honor to serve alongside Steve. He will be missed.
Thank you all for your service to our Y,
Brian Flattum
Vice President and Chief Operating Officer
---
A Word from Charlie Davis, President and CEO
This past week, Steve Triller announced his decision to retire from the Y, effective June 30. Steve has worked in our Y for 44 years, and that has more than covered my 38. He has been a constant throughout my career, someone who represented the core values of our Y. He showed respect to every person he met, along with an uncommon degree of compassion and care. I always marveled when I saw Steve moving around the Y, greeting everyone by name, but his connections went far deeper than knowing a person's name. Steve knew something about everyone, about their family, their work, and their lives. Steve spent his time in the Y getting to know people, because he cared about them, and wanted to do what he could to make their lives a little better.
I am pretty confident we will not see another Steve Triller on staff at the Y anytime soon, or forever for that matter. He lived the Y. I remember when he was the top racquetball player in the state of Washington, and people joined just to take him on. He graciously, and artfully would dissect them on the court, and yet, always leave them wanting more. (Make no mistake, Steve did not shy away from competition, but he did it with grace.)
Those of us who knew Steve way back when, remember his first time camping, bringing a suitcase, a glass salad bowl, and a couple of gallon jugs of milk, and carrying them for miles to the campsite. I have so many memories of Steve, and they are a big part of my Y experience. I cannot imagine the Y without him, calling him, and laughing about something that happened in our Y. You see Steve made it personal for me. He made it personal for everyone he came in contact with, because it was personal with Steve.
As my mom reached into her 90's in her life, I would sometimes hear her say how difficult it was to see the number of her close friends disappear around her. You live that long, it goes without saying that you will lose some friends along the way. Though not as many years as my mom, my life and experiences in the Y have been similar. I have had the great fortune to share the Y with so many great people, but when they leave, for whatever reason, it does feel like I lose a friend. Yes, I have received so much through the gift of friendship at the Y, but, nevertheless, there is a sense of loss to lose that connection. I cannot imagine the Y without Steve, and I will miss him a lot. He leaves our Y better than when he entered it. He has earned a few days off.
---
A Word from Steve Triller, Executive Director, Tom Taylor Family YMCA
Forty-three years ago, my fiancé and soon-to-be wife, Kim, and I embarked on a journey to a faraway place that we had only seen in movies and heard about through song. I was raised in upstate New York and we had both attended Springfield College in Massachusetts. Little did we know that the place that we landed and the work we pursued would shape the very course of our lives and provide us with countless blessings and wonderful experiences. My wife had been hired to become the Director of Gymnastics where she built a program that gained national recognition. I began my part-time work at the Y on Pearl Street in 1978 and a few years later in 1981, YMCA Executive Director Clint Scott recruited me to become the Director of Court Sports. I had the honor of being part of a flourishing Y that brought new energy and service to the greater Tacoma area. We were proud of our Y and we knew that we were part of something special. John Morgan had a great vision of the Y being a beacon of light for the community where people could find connection and become healthy in spirit, mind, and body. John was committed to this vision of Christian principles that would serve the community for decades to come and continues to do so, even to this day. To make the world a better place has been a grand vision indeed. I spent many rewarding years at the Pearl Street Y, later to be renamed the John O. Morgan Family YMCA. During those years, it was known as the flagship Y because of its large membership and its place as the cornerstone that would influence the future growth of the Y in Pierce and Kitsap Counties. The Y was a great place to raise a family and Kim and I were able to raise five children who all became Y kids and we spent much time in Youth Basketball League, gymnastics, dance, and swim lessons.
Far into my career in 2008, I would eventually be directed to serve at the Gig Harbor Family Y, which would later be named the Tom Taylor Family YMCA. At that time, Vice President Charlie Davis thought I might be good fit and that this new Y would give me a new experience and would cause me to stretch. Stretch indeed! The Tom Taylor Y gave me many personal growths opportunities and I was able to connect with a completely new membership. As I reflect on my time with the Y, I am very thankful for the tremendous staff with whom I have served alongside. We have had a lot of fun and comradery. I am thankful for the committed volunteers who have clearly seen how important the Y is in their community and for their great sense of ownership that the Y so desperately needs. For a Y to flourish it can only do so with the community's support. Last but not least, I am thankful for all of the members with whom I have had the pleasure to interact. I have learned so much about people's lives and their experiences and I have been lifted up in so many ways.
As I move into this new chapter of my life I hope to stay connected to the Y. It has been an integral part of my life and my hope is to continue to grow in spirit, mind and body. Thank you for your role in my life's journey.