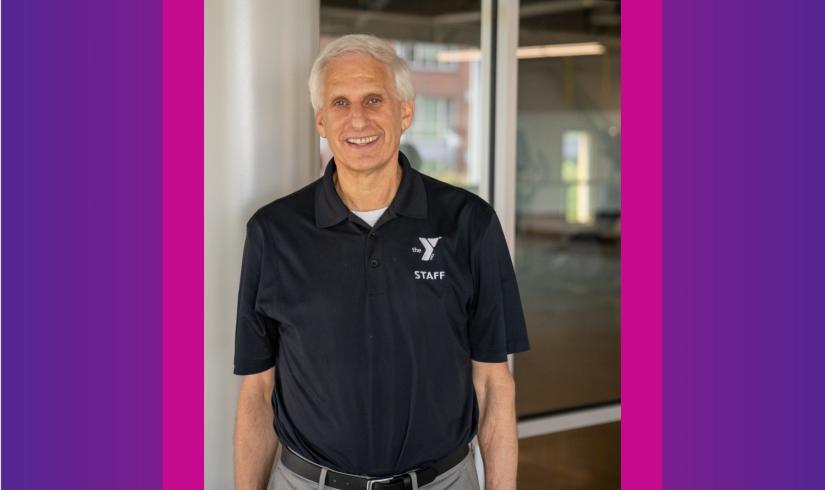 "Be strong and courageous." –Joshua 1:9
Here we go, week 2!
I think everyone would agree – having our community centers open again gave our organization a big boost of energy, as well as hope, last week. Though the number of members using the community centers was considerably lower than we are used to seeing, Brian Flattum pointed out it was higher than the numbers other Ys have been experiencing from around the country (22% compared to 15%). Throughout the week, there were many powerful testimonies from staff and members about how much people missed being in the Y and seeing their Y family. The smiles seen on all the faces, both members and staff, told the story: it was great to be back.
As we have seen from other Ys, the road back is not easy. In fact, the number of members using the Y has remained low throughout the country, so it will be important for us to stay strong and not get discouraged. The mental aspect of the job has never been more important. Brian and the operations team announced the opening of our pools this week, and it created excitement among the members. In order to operate within the safety guidelines, only one swimmer per lap lane will be allowed. Members will use the scheduling tool to reserve their space in the pool, just as they would schedule their spot in a class, but just having the pools open will generate participation and more people in the buildings. In time, Brian is planning to add gymnastics and other youth programs. It will be a slow and methodical process, working within the capacity guidelines for each community center, but it will be critical to offer more options to our members and more value to their membership, and yet still control our expenses. Throughout the closure period, our membership base not only got smaller, but there is still a good number of members who have placed their membership on hold, waiting until they feel comfortable using the community centers.
Being in conversations with other CEOs, I often hear them say they are throwing out "the playbook" and looking to reimagine the Y. Clearly, the guidelines we are operating under force us to adapt to a new way of work, but I am not sure we are throwing out our playbook. In one meeting, I referenced Good to Great principles, and another CEO scoffed at my reference. She pointed out that those principles are no longer relevant in this climate. I disagreed. Jim Collins identified the Hedgehog Concept as being at the core of a company's success, and I believe it still holds true. Collins identifies ingredients of success as a cross-section of:
What you are deeply passionate about
What you can be the best in the world at
What best drives your economic engine
As we saw this past week, having excited staff made our members feel welcome and thrilled to be back in our Y. I still believe having passion to connect with people and draw them into community sets us apart as an organization. The challenge for us right now is to figure out how to make our membership formula a viable business model.
Even before the pandemic, maintaining membership was becoming more challenging. For the past few years, we saw a much greater degree of competition for the adult exerciser, as well as a decline in the number of young adults using our Y. There are many in the Y Movement who believe the majority of our members are from the Baby Boomer generation, and as the Boomers drop out of the Y, there is a growing concern that the Y is not attracting younger generations into the membership pool. I share that concern, but I believe that out of this crisis, we may be able to capitalize on the fact that many of the boutique fitness facilities will have disappeared, leaving us as the primary provider of fitness services; however, one of the challenges will be the length of time it will take before we see people return indoors to exercise.
Prior to the pandemic, Brian and the operations team were working to ensure we were striving for excellence in our service delivery. It is critical that we are seen as the experts in adult health and well-being, youth programming, and swimming lessons. In addition to being the senior executive director of the Gordon Family YMCA, Stephanie Roberts will be playing an important role in leading program development for our association. Combining our passion with a high degree of expertise will be critical to rebuild our Y, even amidst the uncertainty people will have in returning to the Y.
Throughout the closure period, we were focused on developing the virtual experience for our members. Michael Marquez and Lynn Wilmot-Stenehjem have been continuously improving the output of virtual programs. Lynn is rolling out 36 arts classes this week. She has been working with her team to create a comprehensive experience for the member, having staff interact during the class. Thus far, the results have been steadily getting better. We are also part of a group of Ys that have been working to develop the technology in delivering a quality program online; we are anticipating the capability to project the classes onto a television screen rather than just a computer screen will be available soon; this will transform the virtual experience for our members. Furthermore, Michael and Lynn are committed to improving the quality of the classes. We have purchased equipment to create a studio at our University Y Student Center, which will enhance the quality of the delivery of services to our members. Each of these steps to improve the experience for our members will strengthen the virtual component of our membership, making it more appealing to be a member of our Y through another medium.
Ensuring that we refill the membership base is absolutely vital to us surviving and once again thriving as a Y, and it is our intent that we will be able to retain – and add – members through the virtual experience. We believe we have a number of quality staff and programs to offer that will bring value to our members and the community.
In addition to strengthening the value of membership, we will continue to focus on growing Child Care and our commitment to early learning. Furthermore, we look to capitalize on Camp Seymour and Camp Lake Helena, utilizing them for additional activities as part of the membership (until next summer, when our regular programming returns). We will also continue to develop our outreach programming, though smaller in scope, to adhere to our commitment to serve under-resourced communities.
I believe we have assets to draw upon that will help us rebuild our organization. Our community centers continue to be one of our greatest assets, and Loren Johnson, Ed Bressette, and the facilities team have done a great job ensuring they remain appealing to the members. Having large spaces that are well maintained make our community centers much more attractive to our members. 
We have many resources at our disposal, and we are demonstrating great ingenuity in developing new areas to grow our capacity, but our greatest asset remains our staff team. What shined most brightly in the first week was the tremendous commitment from our staff to serve others, as well as help people walk through the uncertainty of this period. Our team is our greatest asset and strength, and it is the primary reason why we will once again thrive as a Y. I am so proud of our team – you are amazing. I am grateful to be aligned with all of you. God bless you.