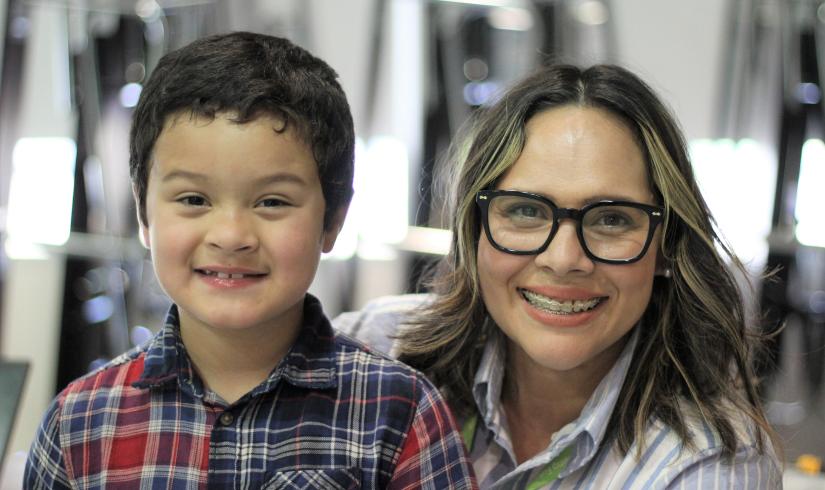 When choosing a childcare program, Niovelyn Mateo looked for safety, flexibility, and communication. With these three major criteria in mind making the decision to put her son, Angel, into YMCA Child Care was an easy one. 
"One day, he was sick, and I had to pick him up from school, and Miss Danielle (Site Director) called me to verify if he was with me. When I got that first call, I was like, hey, they're aware of him and staying on top to find out where he is. That showed me that he's in a safe place, that I can count on," said Mateo. 
After changing 3 daycares since moving to Washington, Mateo's son, Angel, was struggling with acclimating to the program and interacting with the other children. However, she felt more comfortable after Mateo met with the Clover Park Program Director.  
"They were able to work with Angel based on his interests. He is the kind of kid that has to keep doing something. He likes building, and following instructions, he loves a schedule, and honestly prefers educational activities to recreational ones," shared Mateo.
A bright and friendly child, Angel thrives on affection and closeness with others. Which was challenging during the pandemic and cultural shift to social distancing that prevented lack of physical touch.  
"Angel's passion for unraveling mathematical puzzles is inspiring his teachers to actively engage in problem-solving alongside him. Additionally, Angel demonstrates remarkable dedication as he invests countless hours constructing intricate designs with K'Nex," shared Program Director Angelique Potter. "Through this shared activity, he builds skills and fosters meaningful connections with his peers, cultivating valuable friendships," said Potter.  
The Before and After School program at Idlewild Elementary has become an important resource for students and parents. It offers a secure and stimulating environment beyond regular school hours, improving the educational experience for the Idlewild community. 
To learn more about the YMCA Before and After Program visit https://www.ymcapkc.org/child-care/before-and-after-school