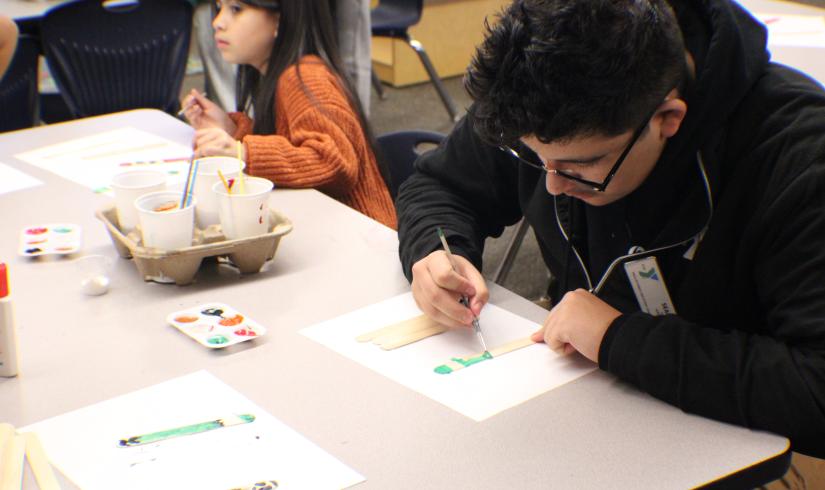 Point Defiance Before and After School Program is Exploding with Energy
The Y's Point Defiance Before and After School Care is pure energy. Walking into the large classroom, chatter and laughter take over the space. Site Leader Sean Chavez explains that this class is like an extended family beyond the morning and evening programs.  
 
"There's never a calm day at Point Defiance. It's a daily thing. Kids can be themselves here and walk away feeling good after a long school day."   
Program Staff Spotlight: Sean Chavez and Jaidyn Riffle
Chavez has enjoyed managing the surge of energy that comes through the doors daily. He realized his love for education through a teaching practicum where he led a 3rd-grade classroom.    
"I found my way to the YMCA through my mother, who also worked in childcare. My interest in child development came when I had the opportunity to lead a classroom of students where I practiced planning and delivering content, assessing needs, engaging in the learning process, and reflecting on the entire experience," said Chavez.  
Site Director Jaidyn Riffle has worked at the Y for two and a half years, and in that time, she has put in the maximum effort to help develop the productive program we see today.   
"I was a Y kid; I was first introduced to the YMCA through the foster care program, where I had a free Y membership. What stuck with me was the time I spent with friends during those programs such as Before and After School and Youth Sports. I want to give these kids the best experience, similar to what I had."     


Creating a Supportive After-School Care Program
The classroom dynamic set by Chavez and Riffle is one where the children can participate in activities or projects that interest them. They make it a point to deliver gentle care that suits each individual child.    
"We make compromises with the children. We don't rush or lecture them. We only ask them to do one thing that they're proud of for the day, and then they can engage in what feels right for them," said Riffle.   
  
 
It's essential to be an example for children. Kids watch and mirror what adults do. Riffle takes responsibility seriously and emphasizes this in all activities and lessons. 
Our SCALED Learning curriculum values being an example that children can clearly understand and follow. Therefore, Site Leaders and Directors must present the complete lesson plans to the students before any exercises are assigned. 
"At the end of the day, I want these children to walk away knowing they have a positive person in their lives," said Riffle.   
As big as the program has become, the children make the space what it is. But, as Chavez says, they are only the conductors in the symphony of pure energy.    
"We perform what we ask them to do. That's how we maintain equity and equality in our classroom. We're like older siblings, and it's our job to look after them like their family," said Chavez.    
As the New Year progresses, the Before and After School program at Point Defiance Elementary looks to expand and foster more creativity. Chavez and Riffle look forward to developing further in their careers and continuing to make an impact within the childcare community.