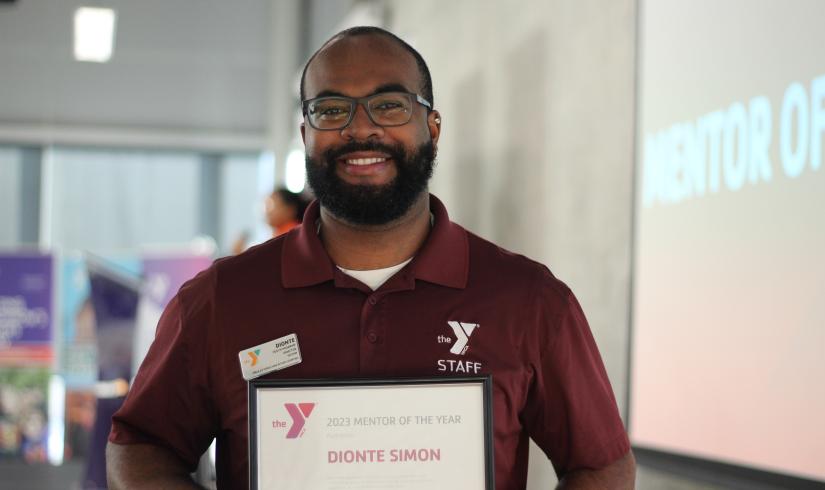 2023 YMCA Mentor of the Year: Honoring Dionte Simon's Dedication to Youth Development 
During the Sixth Annual CCI Breakfast, Dionte Simon was awarded YMCA Mentor of the Year for his exceptional guidance, unwavering dedication, and selfless service to underserved and resourced youth within the Pierce County area. This award is a testament to Simon's longevity and impact in working with teens, helping them navigate their challenges and achieve their full potential. Simon's remarkable contributions have made a significant difference in the lives of many young people, and his recognition as the Mentor of the Year is well-deserved.
A Firm and Caring Leader and Mentor
For Principal Carla Estes, it was an honor for Dionte Simon, a constant mentor, friend, and leader within Lochburn Middle School. "Dionte is mentoring kids, supervising clubs, providing a safe space for students to eat lunch, or working with our athletes. He is integral to what we do for our Lochburn students. You are essential to the kids if they know your name, and every time I see him, many kids yell out, 'Hi, Mr. Dionte!'  He works with the administration to develop community-building activities, and he jumps in when everything is on fire and we need extra hands. When he hears about one of his mentees having a difficult time, he is there to support. He can spoil kids but be lovingly stern, which is a great combination," said Principal Estes. 
To Lead, You Must Follow 
As a former Y Kid, Dionte always gravitated towards community work through his mentor, Chris Spivey, the Executive Director for the YMCA Center of Community Impact. Chris has known Dionte since he was a teenager and is proud of his growth, from starting at the Y in 2019 to becoming the Youth Program Director. Dionte has become a vital member of the Lochburn community by embedding himself in the school and making a positive impact.
"Seeing Dionte's growth from a young teen to an outstanding mentor has been amazing!  He cares deeply about the youth he serves, and they admire and look up to him. Dionte's impact on his community is tremendous, and he deserves this award and recognition. We are grateful to have Dionte on our team," said Spivey. 
A True Mentor and Leader 
Dionte Simon is the role model of what a mentor does for their mentees. With an unwavering commitment to his students and community, Simon has helped establish a strong program at Lochburn Middle School. The YMCA Mentor of the Year is a well-deserved recognition of his contribution to the Y and the community. We are grateful to Dionte Simon and his impact while working at the Y.
To learn more about our annual CCI Breakfast, visit https://www.ymcapkc.org/breakfast.