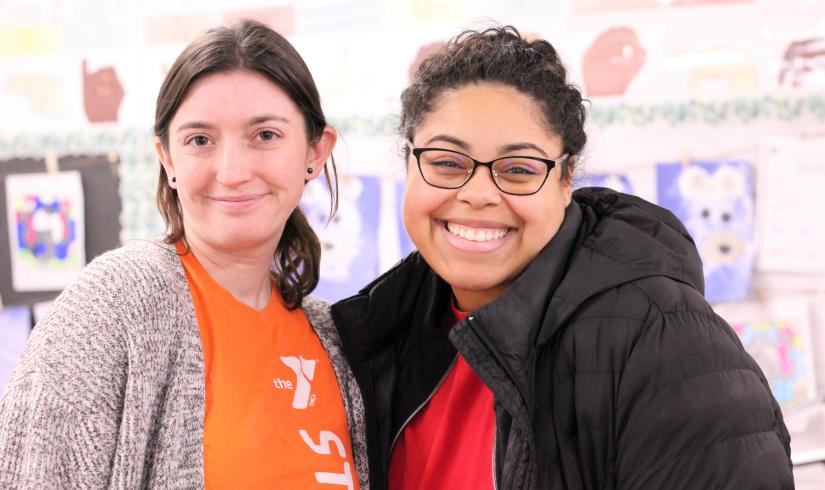 Creating Little Leaders through the Y's Early Learning Centers  
Walking into the classroom, music fills the background as the Pre-K students line up for lunch. Unlike the toddler and infant classes, where teachers serve them, the Pre-K students serve themselves their plate of food.    
"Don't underestimate them," said Autumn. "Each of their personalities is developed and much more independent than you may anticipate."   
Autumn has worked at the Y for two and a half years, initially starting in the infant room. Autumn now leads the Pre-K program at the University Place Early Learning Center.   
"Every day is different. That is what I like about my job. Before, when I was working in retail and other gigs, it was redundant and not fulfilling. Here I feel fulfilled and complete." said Autumn.   
The focus in this classroom is to prepare the children for kindergarten in every aspect of academic, social, and emotional development. In addition, Autumn emphasizes the importance of conversation, kindness, and leadership skills.   
"We talk about everything; communication is essential, especially once they enter school. They'll be navigating a bigger pond than here. More teachers, more kids, and it's a faster pace. So, I make it a point to talk to them daily about their learning and how they feel." 
Teaching Kids The Importance of Being Thoughtful and Kind 
For Shalina, this is an important time for kids to learn how to be thoughtful and gentle to one another. Starting at the Y around the same time as Autumn, Shalina has worked across various age groups, from toddlers to Pre-K.   
"Growing up, people always said I could work with kids. Even at a young age, I had a gentle voice and was very patient, especially towards my little brother," said Shalina.   
The ultimate goal in the classroom is to build kind leaders prepared to enter kindergarten. 
"We want them to learn basic kindness. The curriculum is important, but how you treat people and yourself matters. Self-regulation and clearly communicating their emotions will have a lasting impact," said Autumn.   
The children in the Pre-K classroom can be described as aware, responsible, enthusiastic, caring and independent. They clean up their lunch area without anyone asking and prepare to quiet down for the preschoolers' nap time next door.  
"They know the routine and stick to it. Of course, we have time to be spontaneous, but they generally follow the schedule most days without us telling them. Even as we get more children into the classroom, they help each other. That is something we're proud of," said Shalina. 
Like in life, sometimes kids have off days but in general, the Pre-K students at the Y are turning out to be kind leaders that are ready to conquer Kindergarten and beyond.