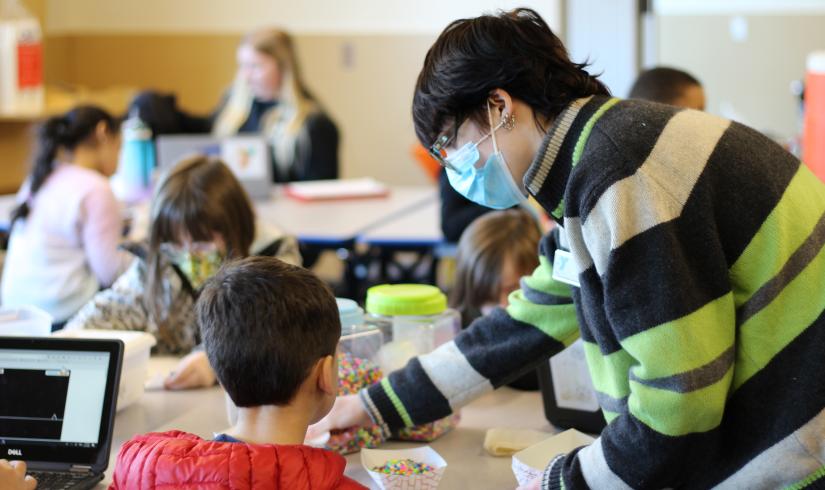 Creating a Lasting Impact: How YMCA Teachers Like Sophie and Finn Shape Children's Lives
Skyline Elementary School has gone through a massive transformation from new facilities to the programs that are currently available for students and families. Before and After School Care at the Y is just one of many facets that the Y helps young learners beyond their normal school hours. 
Meet Finn, a YMCA Teacher
As the point of contact for many children entering the program, kids find Lead Teacher Finn's kind and patient demeanor immediately helps puts them at ease. Through years of experience in working with children of all ages Finn's ability to connect with each child on an individual level is evident as they offer personalized attention and guidance to help each child reach their full potential.   
Parent Megan Kilpatrick, a Skyline Before and After School participant, describes Finn as disciplined. "Finn has been great, and I've so appreciated the way in which they truly seem to know each kid and in how they manage the program—its disciplined and yet fun." 
Finn has worked for the Y since last August and has described their experience as impactful and friendly.  
"I genuinely hope that kids after knowing me become kinder and become the best versions of themselves."  
With Finn's unwavering commitment to helping children succeed, it's no surprise that the Skyline After School program is a popular choice for families in the community. For parent Megan Kilpatrick this program was a lifesaver for her family. 
"I truly think [my child] Alden is more confident and resilient with the program. No one could have predicted what would have happened with the pandemic, but the consistency of the Y Care program has helped make that journey as easy as possible. Alden is so good at making friends – I wish I had this skill set when I was his age," said Kilpatrick. 
Meet Sophie, a Child Care Team Member
No one understands change more than lead teacher Sophie, who often moves from site to site helping where it's needed. Sophie's experience and versatility benefit both the YMCA and the families we serve. With each site, Sophie brings fresh ideas and approaches to help meet the unique needs of each group of children.  
"It's truly rewarding when I visit a site and the children remember me from my previous visit. Knowing that I've made a lasting impact in their lives is what motivates me to keep doing what I do. Being mobile not only allows me to gain a broader perspective on the different needs of children from diverse backgrounds, but also helps me develop the skills I'll need once I become a full-time teacher."  
Sophies aims to become a first and second grade teacher and is currently studying Primary Education at a local college. Her dedication to sharpening her skills and passion for teaching is shared throughout the Child Care team.   
Our Before and After School program provides a vital service to families and communities across the Tacoma School District. From passionate and dedicated Y staff like Finn and Sophie, the program is made possible by the hard work and unwavering care that is provided by the YMCA and our staff.