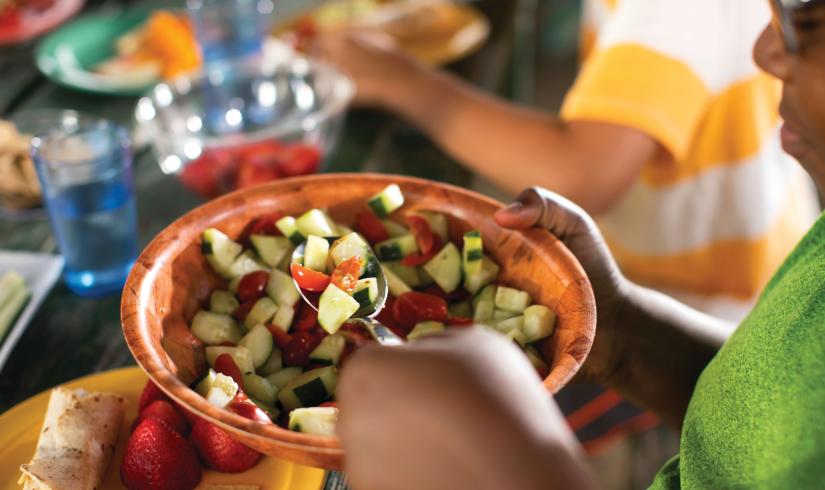 Eating Well and Playing More to Combat Childhood Obesity
For many kids and families, back to school means the return of busy schedules, less sleep, and reduced play time. Changes in sleep patterns and activity levels not only makes kids grumpy, but also contributes to weight gain which can lead to further health problems.
The Y is a leading voice in keeping kids healthy and preventing childhood obesity in Pierce and Kitsap counties through our ACT! (Actively Changing Together) initiative. This program helps families live healthier together by introducing small lifestyle changes like these: 
Eat & Drink Healthy: Make water the drink of choice and encourage everyone to fill half their plates with fruits and vegetables by offering two or three colorful options at every meal. As a family, choose a new fruit and veggie every week to taste together. Place a full pitcher of water on the table during meals, and allow children to pour their own water.
Play Every Day and Go Outside: Children should have at least an hour a day of unstructured play outside (when possible) and break a sweat at least three times a week by getting 20 minutes or more of vigorous physical activity. Join your children in games that get your hearts pumping and bodies moving together. 
Get Together: Eat together as a family as frequently as possible. Involve kids in meal planning, preparation, and clean up. In addition, adults should take a break from electronics and spend one-to-one time each day with their kids, enjoying one another's company.
Reduce Recreational Screen Time: Set a family challenge to reduce screen time at home by turning off TVs and phones during meals.
Sleep Well: Kids and adults need to keep a regular sleep schedule. Unwind together in the evenings by reading a book or listening to soft music to ensure the body is preparing for sleep. When possible, aim for kids to get about 10-12 hours of healthy sleep per night. 
Introducing ACT! @ Home
When you need a little extra help, turn to the Y and join our ACT! @ Home Program, designed to be a virtual learning opportunity for the whole family during the COVID-19 pandemic. This 12-week program, developed in partnership with Seattle Children's Hospital, provides engaging lessons on healthy nutrition, activity, and lifestyle and is designed for kids ages 8-14 and their parents. As a pilot program, we're offering ACT! @ Home free to the community!
This program requires a referral from a medical provider. We accept referrals from many types of medical providers, including primary care, and specialist physicians, nursing staff, registered dietitians, school nurses, and physical therapists.
Upcoming ACT! @ Home Classes for Fall
Tuesdays, 5:30-6:30pm; orientation September 29
Tuesdays, 4:30-5:30pm; orientation October 22