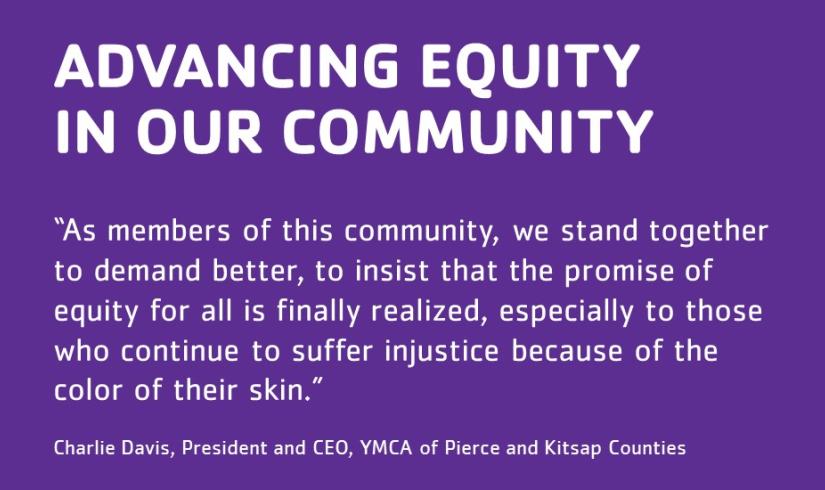 Our hearts and our prayers extend to the families of so many who have lost loved ones to acts of racism. We affirm unequivocally that all Black lives matter. As members of this community, we stand together to demand better, to insist that the promise of equity for all is finally realized, especially to those who continue to suffer injustice because of the color of their skin.
Throughout history, the Y has strived to be a place where everyone from our community can come together to address today's most critical social issues, and our commitment is stronger today than ever. We cannot stand silent any longer, we cannot stand quietly as a witness to another life taken. Doing so goes against our core beliefs and contributes to repeated acts of violence. If we truly believe in community, we cannot rest until all people are treated as community.
You are crucial to this change and we want to hear from you. Let us know how you think the Y can better play a role to advance equity in our community.
As an organization, the Y is dedicated to advancing diversity, equity and inclusion, but we recognize that our YMCA has much work ahead of us as we work to undo racism, at an individual, organizational, and societal level. We seek to more effectively lead as an anti-racist, multi-cultural organization, yet as we embark on this journey we do so with humility, fully cognizant that as a local and national institution we also have much to learn and even more work to do.
Our vision is to create opportunity so all can thrive in every season of life. For us to authentically fulfill this vision, we must be relentless in our effort to advance equity for all. We are committed to walking alongside individuals and our community to create space for conversation, to address racism, to build bridges, to increase knowledge and education, to provide resources, and to bring people together.