The Y strives to help all ages learn how to swim, so they can stay safe around water and learn the skills needed to make swimming a lifelong pursuit for healthy living. Whether you're looking for swim classes, want to learn water safety, or just enjoy swimming laps, you'll find what you're looking for at one of our pools.
Pierce County Y's: Phase 2 Guidelines
Pierce County YCMCAs rolled back to Phase 2 on April 16. Locations and programs in Pierce County continue to operate on schedule with one modification: Lap swimming, open swim, and water aerobics now require reservations in alignment with Phase 2 guidelines.
YMCA locations and programs in Kitsap County continue to operate in Phase 3 without changes. Learn more about Pierce County Y's Phase 2 guidelines.
Looking For Kitsap YMCA Schedules?
Find the Kitsap YMCAs Aquatics Schedule
---
REVIEW OUR SAFETY AND ETIQUETTE RULES BEFORE RESERVING TIME AT YMCA AQUATICS CENTERS
All Posted Pool Rules Apply to Maintain a Safe Aquatic Environment
Age Guidelines For Lap Swim and Water Aerobics
Ages 8-14 must be able to pass a lap swim test to swim in the lap pool
We recommend teens and adults ages 15 and older for water aerobics. Youth ages 8-14 may join but must be able to pass a lap swim test and be continuously exercising
Masks and Social Distancing
Masks should be worn upon entering our Community Centers and should remain in place until a member is entering the water. When exiting the pool, a facemask should be on. Facemasks are not required to be worn in the pool while working out
Maintain six feet of distance from swimmers in adjoining lanes
Members who would like to sit and watch family members and friends must wear a mask at all times while on deck
Coming Prepared and Showers
Members must bring their own towel, bathing suit, cap, and goggles
Personal items should be kept on the pool deck within sight as the locker room lockers are limited
Other Safety Considerations and Borrowing Pool Equipment
Be mindful that lane one has the chair lift accommodation for members with disabilities. Members may be asked to either move a safe distance away or to another vacant lane
Water walking is permitted as long as the member stays within their lane
If members borrow items (kickboard, fins, waist belts, etc.) please disinfect the items and place them on their corresponding shelves. Staff members are available to assist when needed
Split Lane Swim Important Information
All Posted Pool Rules Apply to Maintain a Safe Aquatic Environment
Split Lane swim times are scheduled to share a lap lane with another swimmer
Swimmers will be assigned opposite ends of the pool to enter or exit on, and for any rest breaks
Swimmers must be continuously lap swimming or maintaining a minimum of six feet distance from the other member
Y staff will do our best to honor requests to split lanes with certain members if possible
Family members may occupy the same lane without maintaining 6 feet of distance from one another and must book two reservations
Lanes hold a maximum of two people regardless of family or household status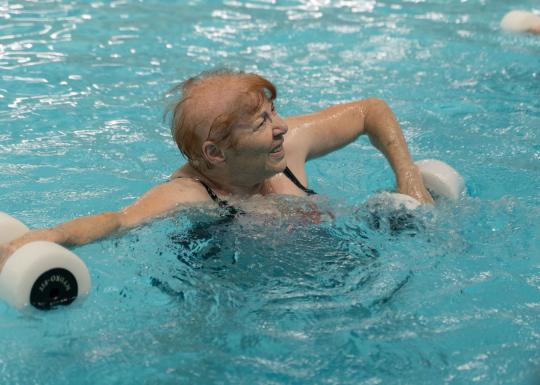 Water Exercise Classes
Our water exercise classes are a fun way to use the resistance and buoyancy of the water to improve cardiovascular fitness, strength, and flexibility.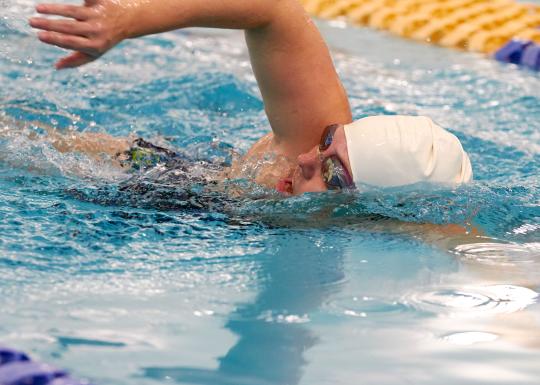 Lap Swim
Enjoy lap swim in a single or split lane at the Y's safe and sanitized pools!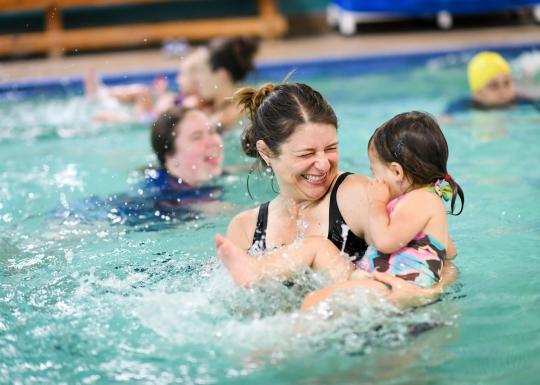 Open Swim
Enjoy open swim time, water walking, and lap swimming at our Y's recreational pools!