Sign an updated waiver: Every adult member is required to sign an updated waiver, which includes a COVID-19 update as required by Washington state.
Review visit information: Review all health screening questions and information before you visit. If you have a temperature over 100.4 degrees or experience any symptoms below, please stay home for the health and safety of our community.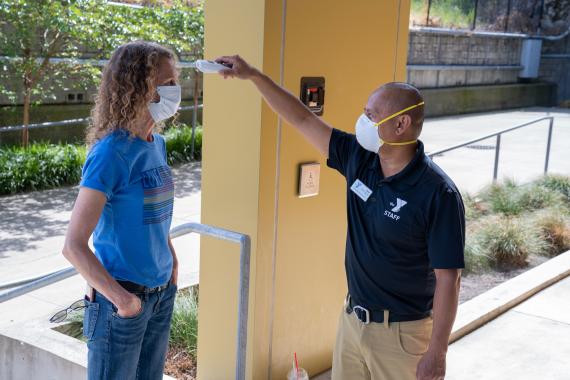 Please stay home if you've experienced any of the following:
Were you diagnosed with COVID-19 and have not recovered or are still within the required 14-day quarantine?
Have you experienced symptoms of COVID-19 within the last 24 hours?
Have you had contact with a person that has or is suspected to have COVID-19 within the last 14 days?
Practicing Social Responsibility
We're in this together. We need you to help us maintain a healthy environment for everyone:
Physical distancing guidelines of at least six feet of separation must be maintained by every person in the facility at all times to the greatest extent possible. Each of our facilities will have a physical distancing plan that explains where individuals can be at a given time in our lobby or waiting areas, private offices, and the training areas. Signage will be placed at entrances and throughout our facilities providing you instructions and information about our enhanced physical distancing requirements. 
Access to our facilities will be through the front door. Other access points will be kept closed.
Congregations of no more than five people will be allowed in common areas such as lobbies, and only if physical distancing may be maintained.
We will have no large group fitness classes or in-facility child care services when we initially reopen.
Small group fitness sessions will be limited to groups of five or less per session, not including the trainer.
The following areas will be closed: Showers, basketball courts, and other group athletic areas, hot-tubs, saunas, and steam rooms. Locker room use will be limited use for handwashing and restrooms only or avoided if possible.
Visit the Centers for Disease Control and Prevention for more tips to stay healthy.