Adapting To State Restrictions
We hope all Y members stay healthy during this time. In order to support the prevention of the spread of COVID-19, the YMCA is shifting operations including only being open for pool activities. Learn more.
---
The Y offers many group exercise classes led by trained, responsive, and fun instructors at a community center near you and virtually. The Y has a large variety of classes to choose from to keep you motivated and help you build relationships with new class-mates.
Try group exercise with no fee by finding a class that inspires you, reserving your time, and connecting with your community through healthy living! Take a look at our new group exercise class list.
Staying Safe Together | Please Review Safety Procedures
Reservations Required
To help keep our members and staff safe, the Y will have limited capacity to ensure proper physical distancing in alignment with government and health department guidelines.
View Current Community Center Capacity
---
Please practice our key safety procedures every time you visit the Y:
Stay home if you're sick.
Review and answer the screening questions upon entry.
Wear your mask anytime you're not engaged in physical activity, including between weight lifting sets.
Stay six feet apart at all times.
Use gym wipes to wipe down equipment immediately after each use.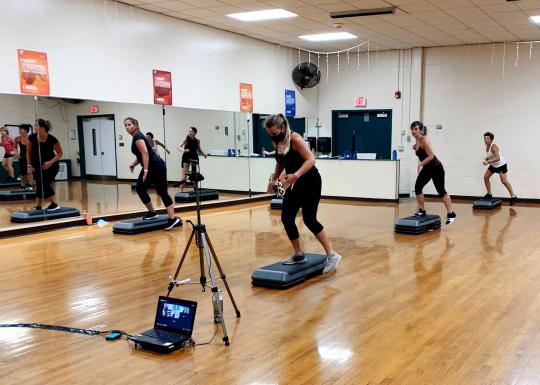 Cardio
Step, dance, jab, and move to the music to get your heart pumping with our innovative and action-packed cardio group exercise classes! Classes include dance, kickboxing, running, and dance more.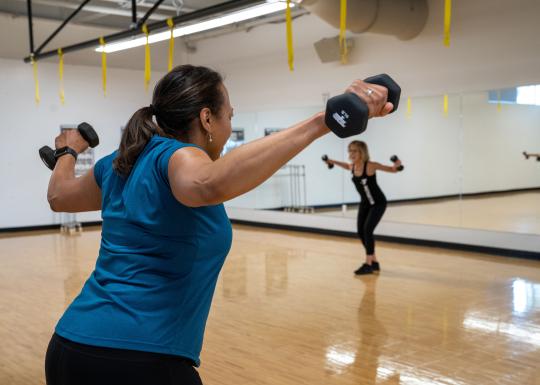 Cardio Strength
Get a total body workout that focuses on tightening and toning the body with intervals of cardio and strength using hand weights, body bars, resistance bands, steps, and resistance balls.
Cycling
A great mixture of aerobic exercise, muscle building, endurance training, and interval challenge - cycle group exercise classes are great for any fitness goal or level of fitness. Bring a towel and water bottle for high-energy cardio-muscular training!
Flexibility, Balance, and Core
Take the time to center and strengthen your energy with Flexibility, Balance, and Core. Improve balance and flexibility with these group exercise classes focused on strengthening core muscles and increasing range of motion.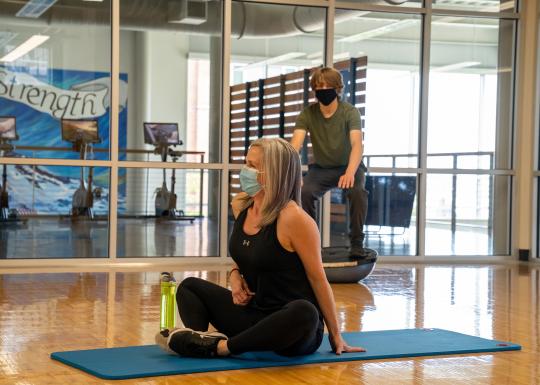 Low Impact
Keep up your endurance, get healthier, and connect with others while building strength and increasing stability with a variety of Low Impact group exercise classes that are easy on your joints.
Strength
Fun, high energy classes using resistance training designed to improve your overall strength and endurance.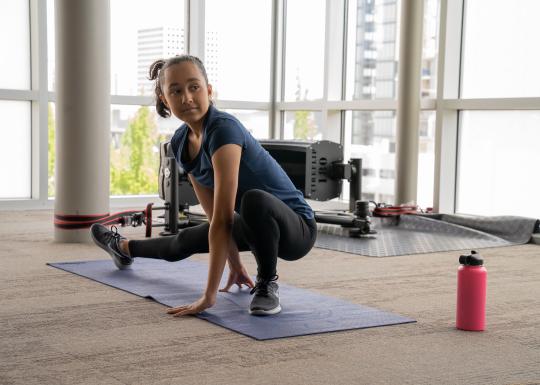 Yoga
Control breathing through a series of flowing movements designed to strengthen and lengthen muscles while developing a mind-body connection. Guidance through yoga postures improves strength, balance, and flexibility.