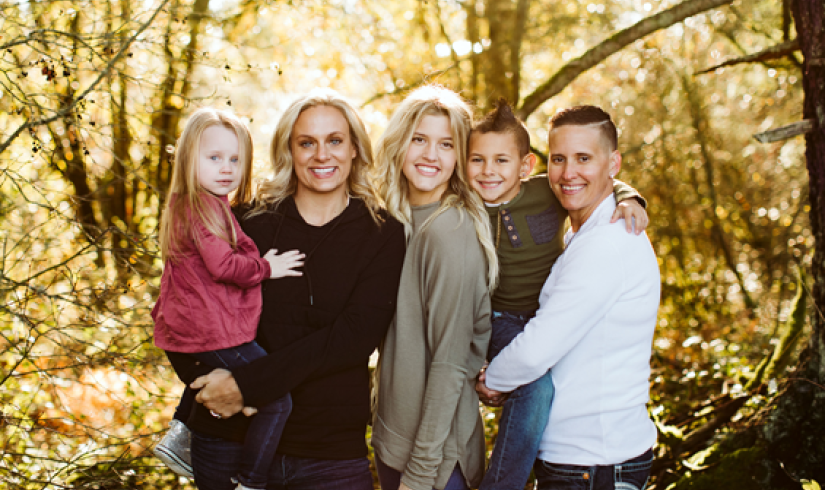 Michelle Beach, Member Services Lead at the Mel Korum Family Y, shares a deeply personal story about her life. 

I grew up in Issaquah, WA as an only child with a mother and father – until I was nine when my parents decided it was time to call it quits on their relationship and ended up divorcing that year. My dad moved out and I continued to stay with my mom in the house I grew up in, but it soon became a house of my past as we moved into a smaller house within walking distance of the schools I would attend. My mother worked full time and I became responsible for myself. I rarely saw my father, something to the extent of your typical custody agreement back in the 90's – every other weekend / every other Wednesday, until my mother started telling me he no longer wanted to see me, and our relationship hardly existed.  

I remember the night as if it happened yesterday. I was a freshman in high school, playing varsity basketball, hustling every day to be a good student, daughter, player, teammate, and friend. It was semi-late at night, but I had done everything I was supposed to do that day – the usual chores, my homework, the extra hour of practice I had committed to – I was in my room on my 80's clear light up phone. You know the one, when it rings it lights up a bunch of different colors… the one everyone HAD to have. All of a sudden, my mom swung open my door and yelled at me to get off the phone. As your typical teenager, I huffed and puffed and just ignored her – who was she to tell me I needed to get off the phone? She stormed back and ripped the phone out of the wall yelling and screaming at me; something about how I was a terrible daughter, I was always on the phone – and who was I even talking to so much… out of anger I yelled back, "my girlfriend mom. Yeah, you heard that right. My girlfriend. I'm gay." Immediately after the words came out of my mouth, my mom told me to get out of her house and that I was no longer welcome in her home.
Let that sink in.
My mother, who was like my best friend, told the 14-year-old me that I was no longer welcome in her home. Where was I to go? I didn't have a relationship with my dad at the time. I didn't have a cell phone to call anyone. As I sat outside in the pouring rain, bawling my eyes out – trying to come up with a plan… I heard the creaking of the screen door open up and saw two bags tossed out. My school backpack and my basketball bag. I picked myself up off the cement, collected my things, and walked to my neighbor's house. She let me use the phone to call my dad – who instantly came to my rescue, and I never looked back.  

I never spoke to my dad about why my mom had kicked me out that night – although years later I did find out my mom called him to tell him why and he told her, "no matter what, he would never turn his back on me."  

My high school days were something else – word traveled fast that I had come out and at the time, it was less than acceptable in my high school hallways. I became more independent than I already was and ultimately just kept to myself. My friends decided they no longer knew how to be my friend and my basketball team only interacted with me when they needed to. Not soon enough, high school came to an end, and I moved on with my basketball career to a local community college. It was here that I truly found myself and accepted myself as I was. In college, no one really cared that I was gay or that I had a girlfriend, the majority of people were accepting and acted as if nothing was "different" about me. My basketball teammates were supportive of me and even opened up to me about their coming-out stories. I finally started to find my community. My friends. My support. I finally felt confident in myself.  To this day, I have spoken to my mother a handful of times and only because I HAD to, not because I wanted to. 

My father has been my number one fan, my biggest supporter, and has never once been ashamed of his gay daughter.  
I share this story with you with an open heart but my story is less than glamorous. There was no red carpet with balloons or glitter being tossed in the air. There was no celebration. No PRIDE parade together. There were no hugs. No "I love you's." It was not a positive experience for me. However, I wouldn't change how it happened. I'm glad it happened and I'm glad I am where I am today. I have a wife, three kids, and an incredible village that surrounds us with love and support.